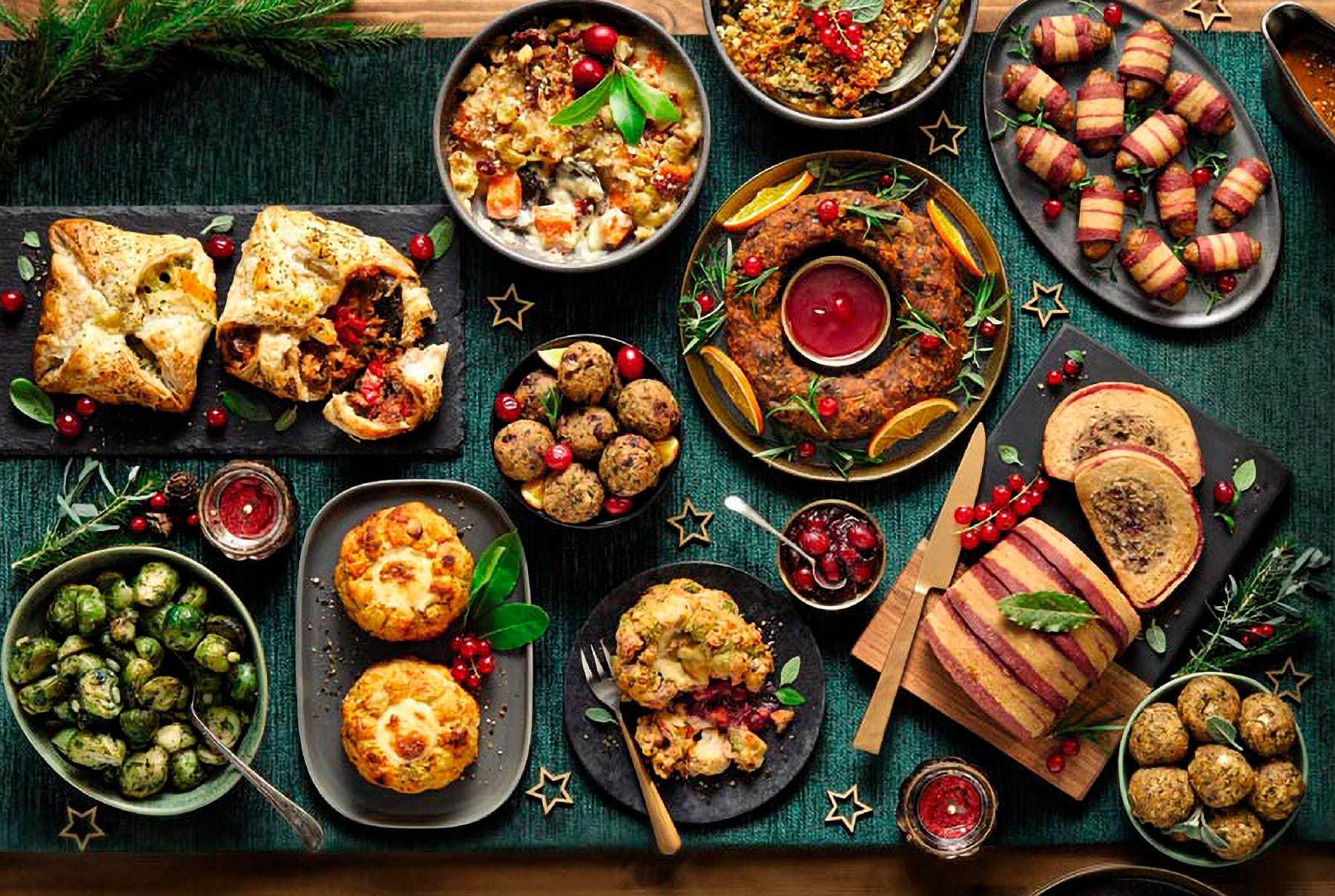 A VERY VEGAN CHRISTMAS
by Chloe George
on 09/12/2021
Get on board
The vegan train doesn't seem to be slowing any time soon, and before you know it the wave of Veganuary will hit with more gusto than the age-old 'new year, new me' resolution that sees you digging out your old workout gear from the back of the wardrobe.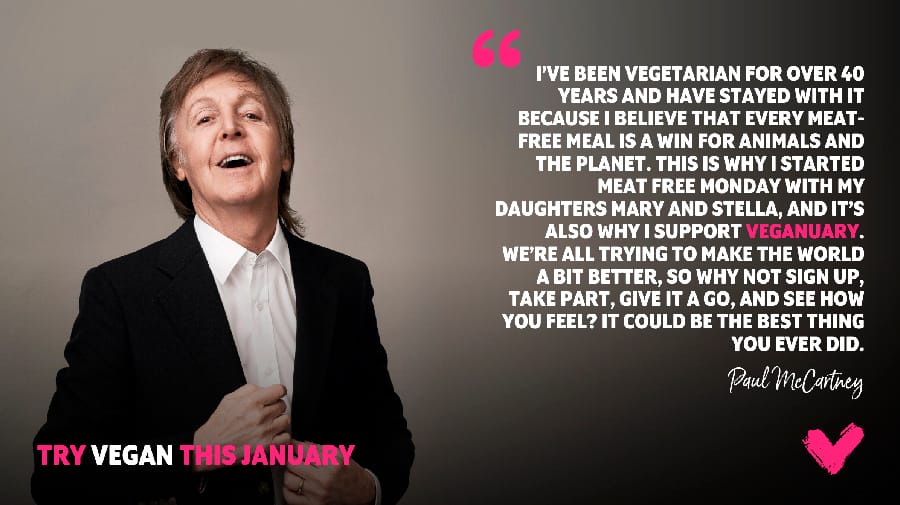 Veganuary 2021 was reportedly the
campaign's biggest success yet with
nearing 600,000 official sign-ups
and celebrities such as Ricky Gervais and Paul McCartney showing their support. With more and more big – and sometimes surprising – names advocating for veganism like Snoop Dogg and Beyoncé, and restaurants adapting to cater for vegan diets with more options than ever before, it begs the question as to how many people are swayed by the end of the month to go beyond Veganuary and adopt this lifestyle fulltime, and the incentive to do so.
Take your pick…
The Veganuary concept was born in 2014 via husband-and-wife Matthew Glover and Jane Land, who met on a Vegan dating site. Since its inception, the now registered charity has grown year on year and has seen retailers and restaurants alike boost their promotion of vegan alternatives.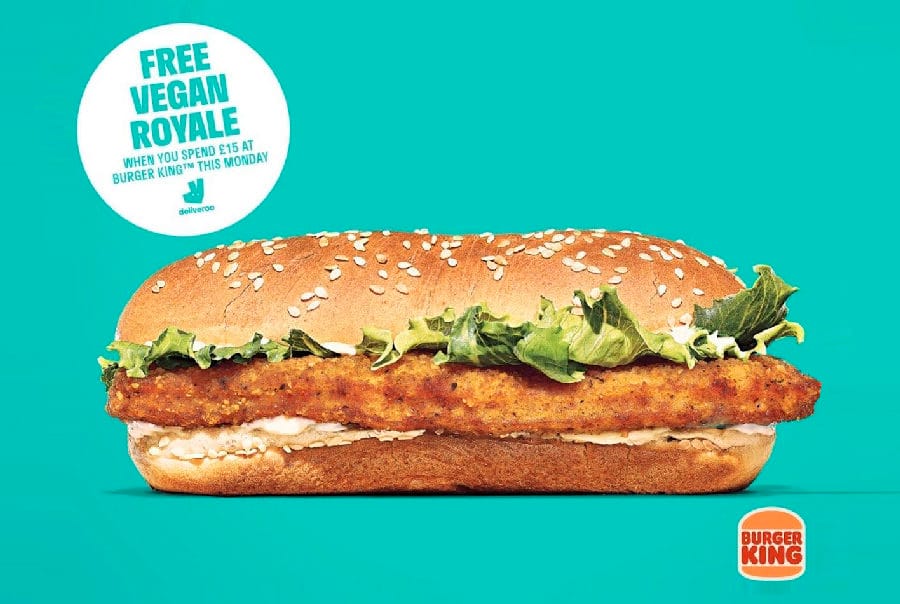 In January of 2021, while we were still in the midst of a national lockdown,
Deliveroo stated a huge rise in the popularity
of plant-based restaurants with
an increase of orders by 146%.
With the hope of a lockdown-free Christmas and New Year period, Veganuary could be back in the big outdoors for all the newcomers to the campaign. Leaning into the flexitarian trend, that has forged an imprint on the food world since the rise of veganism and other lifestyle diets, vegans or 'veganuarians' as I'd like to coin them, no longer have to stick to strictly plant-based restaurants as mainstream restaurants begin to offer far options than the tired 'stuffed mushroom' and 'chickpea curry' to choose from.
A Vegan Christmas
Most recently Garden Gourmet, Nestlé's plant-based brand, has partnered with Whitbread to launch meat-free dishes across their pubs, restaurants and Premier Inn sites, reaching more than 5 million customers each month. In Veganuary, we are used to retailers promoting their vegan options more heavily, noting Tesco's first Veganuary TV and radio ads in 2021.
And if we hadn't fallen in love with Aldi enough this Christmas, Aldi is going headways with their dedicated Vegan / Vegetarian Christmas offerings that quite frankly, has all the trimmings. Retailers are really jumping on the band-wagon to offer their customers a wider choice of plant-based party food and Christmas dinner options – so it seems to be only a matter of time before it's the 'done thing' for restaurants to add plenty of vegan variety to their festive menus.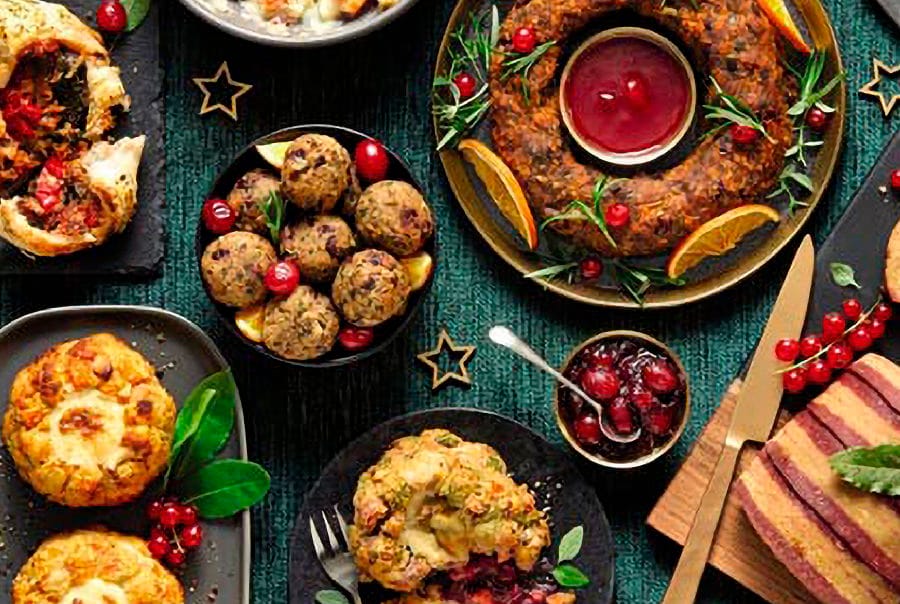 And it's true, We at Eat With Your Eyes are certainly seeing an increase of vegan options being added into menus as they come through the studio to be designed. It's a refreshing approach to see restaurants finally adapting their menus to cater for vegans, without them being an after-thought. Most recently we've seen Cast Iron craft their much-loved burgers to offer a vegan patty by no other than Moving Mountains (see the post here). This highly-popular burger patty is now seen in many outlets thanks to its textures, flavours and 'meatiness' it's evident why it's a popular choice for restaurants.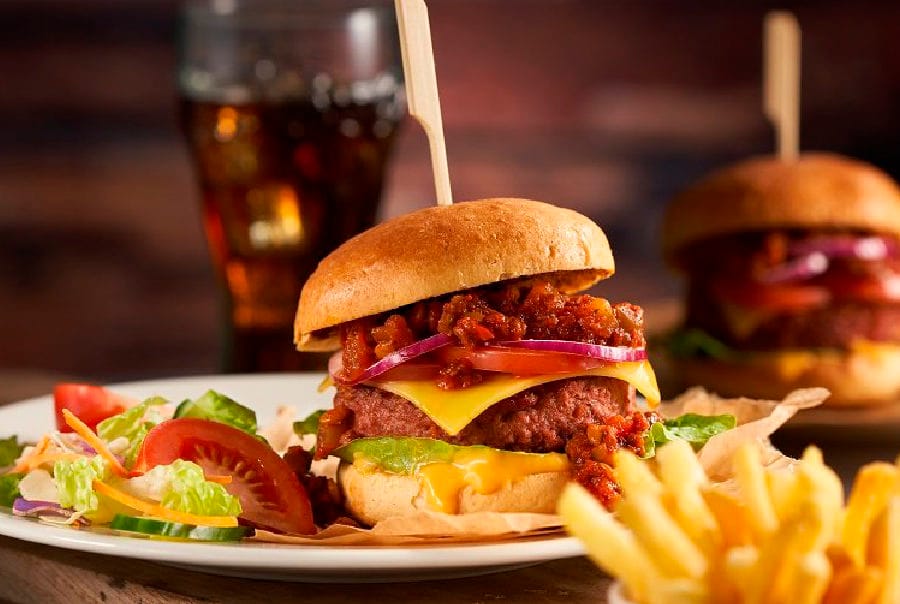 In other places, Whitbread's new 'The Garden Gourmet Sensational Burger' will be rolled out across festive menus in Beefeater, Brewers Fayre and Cookhouse + Pub restaurants, so of course the trend is only likely to grow.
Restaurants that will do well are the ones that offer CHOICE.
Las Iguanas are doing just that! Their Carnival Christmas menu is "full of flavoursome vegan Latin American dishes".
Pho have an extensive Vegan Christmas menu alongside a regular Christmas menu, and Pret offer a Vegan Christmas Nut Roast Sandwich and a Christmas flatbread to rival their famous 'Christmas Lunch' sandwich. And as choices go, the one and only Dishoom conquers the high-street with their beautifully crafted dishes that just ignite a real taste of stunningly tasty food, that you'd never miss meat.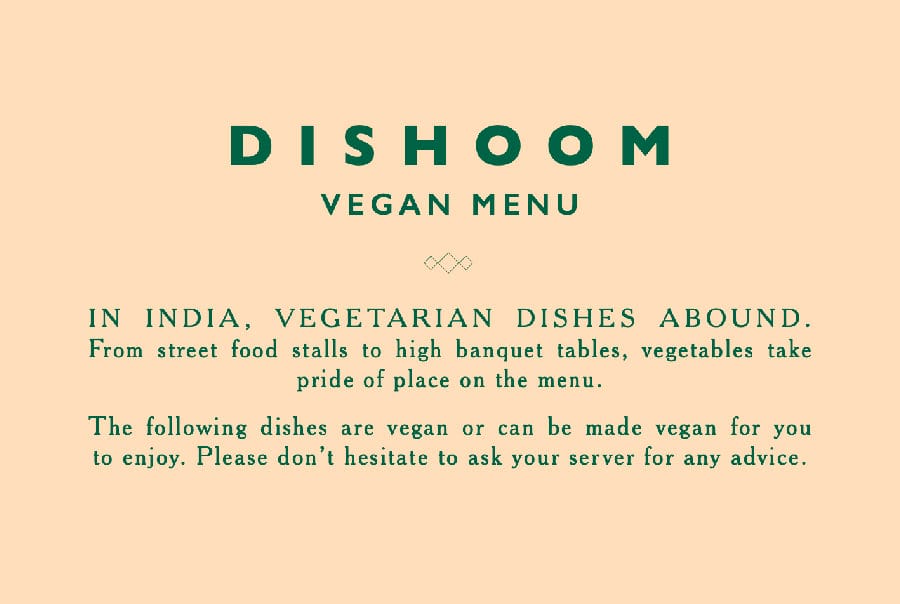 Good for you, good for the planet
Further to the personal health benefits and growing abundance of tasty options that may influence the public to make the switch for Veganuary and beyond, the state of emergency surrounding climate change also directly correlates to a predicted surge in the amount of people looking to veganism to do their part in curbing the crisis.
With methane accountable for approximately
half of the 1.1 degree rise in the global average
temperature over the last century,
and 80% of the farming industry's emissions being methane, cutting the amount of meat consumed would of course cut the demand; consequently, helping to tackle climate change, in supposedly the quickest way.
And it isn't just the methane either. There are so many impacts on the climate that is having devastating consequences on our planet. From deforestation, the animal feed, the land they're kept on, to the over-use of antibiotics, the impact on bio-diversity, and all together the moral compass. We are seeing a real change in the efforts of the younger generations and also anyone who dedicates their life to the future of this planet.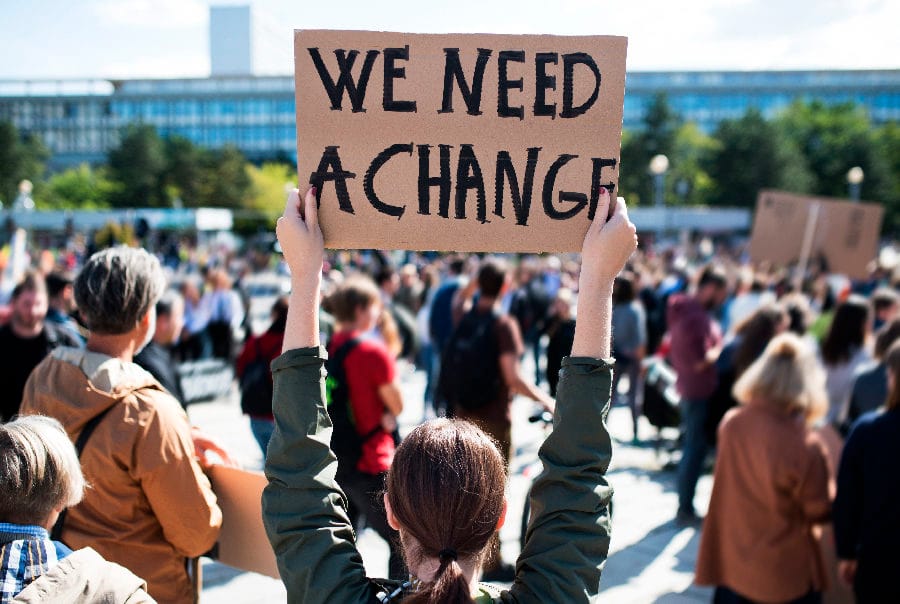 As we watch COP26 unfold, the new height of urgency for climate action unites with the food industry's overall open arms response to veganism. As we become more and more influenced by a desire to be healthy and environmentally cautious, Veganuary 2022 is set to be bigger than ever and may influence a new wave of committed vegans for the rest of the year, for themselves and the planet.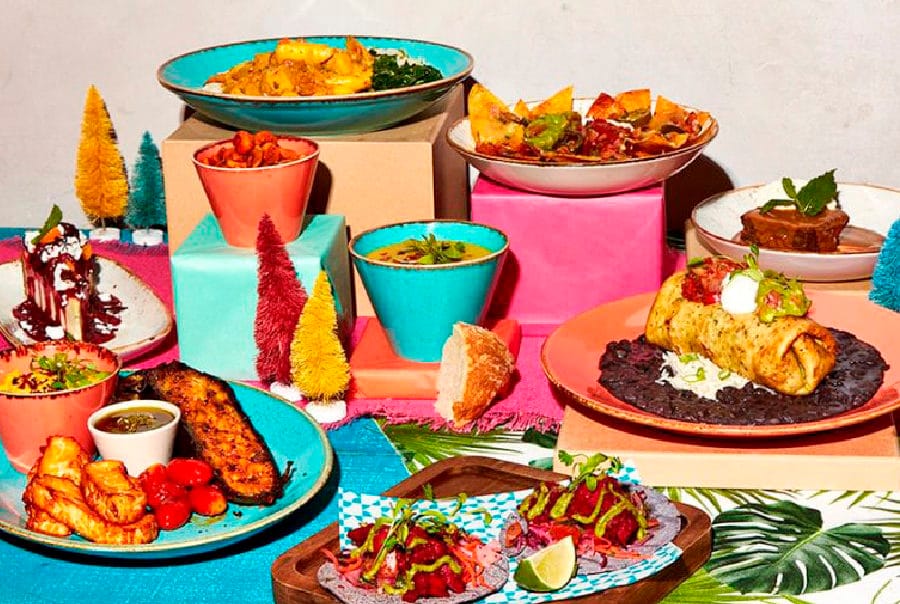 But we're not going to leave it on a serious point either, we are seeing exciting things happen on our high-streets. Things that help tackle the serious pointers above but that also let us enjoy life too. We are seeing chefs, designers, campaigners and other amazing talents create an abundance of new energy focussed around the plant-based diet. Things so exciting we can't afford to look the other way.
If you have a campaign you want to shout about, get in touch…


Bio: Chloe George – Account Executive

With a degree in Film & Television studies, and a passion for writing and social media, Chloe loves to use her creative thinking to research, explore trends, and write.
Image source – veganuary.com / mirror.com / nestle.com / aldi.com / dishoom.com / lasiguanas.com / shutterstock.com