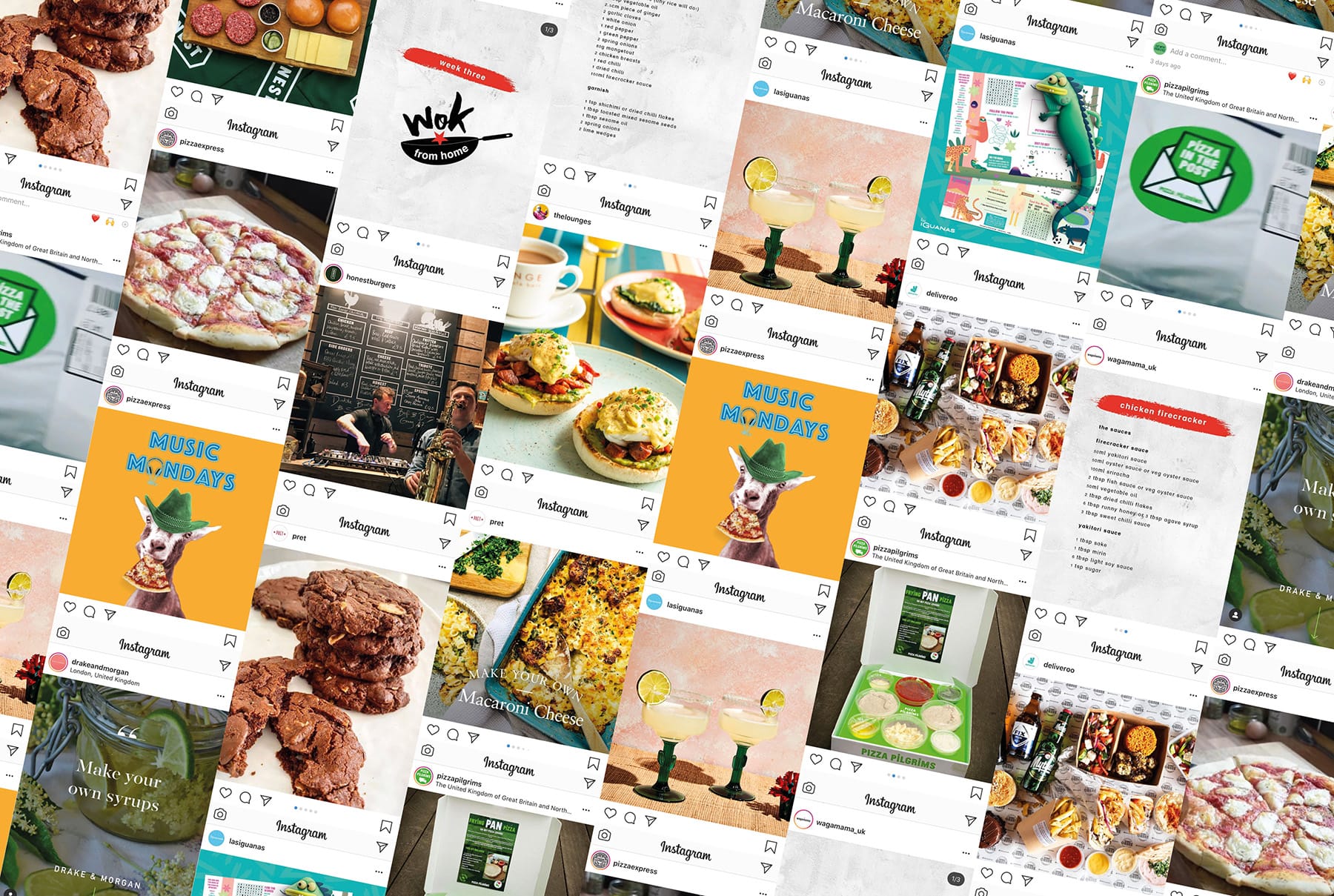 EATING IN
THE NEW EATING OUT
by Lois Hillier
on 22/04/2020
2020 has taken many unexpected turns and the lock-down has certainly become a game changer in the way the hospitality industry has had to overcome hurdles. The way in which we are seeing brands adapt to the current challenges has not only been inspiring but also celebrated. These unprecedented times have seen many brands seize the opportunity to adapt and change their offering to work under the certain circumstances. Below is just a proportion on how these brands are stepping up and creating a feast for us at home.
Home Meal Kits:
The new way of cooking up a storm in 2020. We've seen the likes of Gousto and Hello Fresh take over our homes with delicious simple recipes that have all been portioned out for us for super convenience and to inspire us to eat well. Now restaurants groups are tapping into the same logistics.
The great thing about this is that customers are still able to enjoy staple dishes from their favourite restaurants in the comfort of their own home without any soggy, half warmed takeaways in sight! Here are a few of our favourites:
Pizza Pilgrims – Pizza Making Kits – Not only do the ingredients look incredible, the packaging is out of this world! The bright modern approach would cheer anyone up and let them know they're in for a treat. Simple and sophisticated, this one's a winner.
Honest Burger – Burger Building Kits – Who doesn't love a burger?! They know it's simple and they;re not afraid to show it off! These burgers are made from proper steak mince and will surely delight any burger fanatic during these times.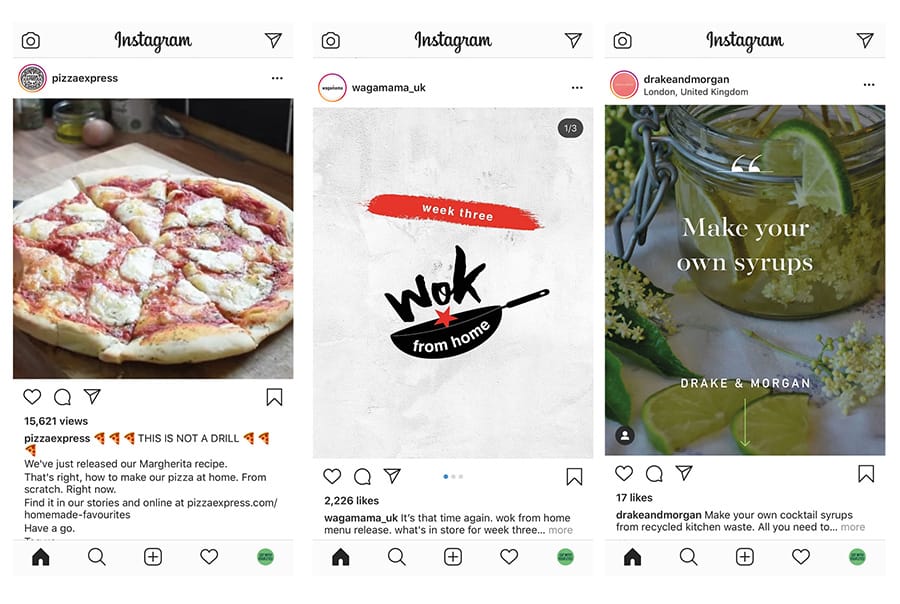 Make It At Home:
Although not every restaurant is seizing the opportunity to create meal kits, they are however creating opportunities for their fans to create staple dishes from home. There is a huge confidence in sharing dishes, not only are you giving away 'secrets' but you're allowing your fans to take a bit of your brand home and that speaks a thousand words and will only help you grow when their doors start opening again.
Wagamama – Wok From Home – Wagamama are treating us weekly with their most loved dishes and recipes including the one and only 'Katsu Curry'. Their delightful live sessions and posts gives us everything we need to create these classics, we can't wait to see what they release next!
Pizza Express – Margarita Pizza – You beat a classic! Pizza Express treated us to a live stream on how to cook a margherita pizza 'the right way'. With simple ingredients this by sure is a super fun one for the whole family to get involved with.
Drake & Morgan – Cocktails – Who isn't missing their cocktail fix?! That's why we are glad to see many brands sharing our Saturday favourites such as Drake & Morgan! chin chin!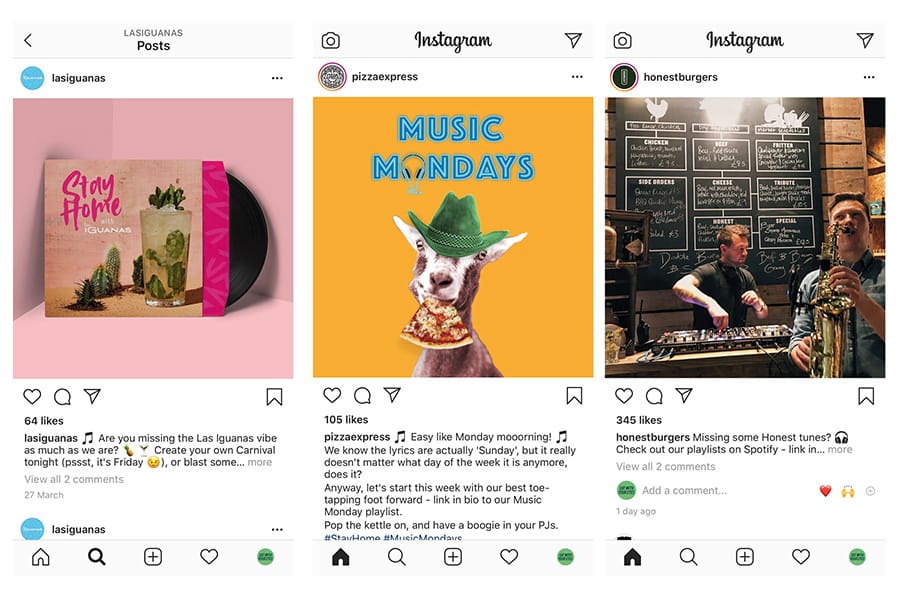 Add the Vibes:
Music is a huge part of the restaurant scene and our favourite restaurants are helping us bring those vibes home with playlists we can tap into at home. These small gestures from businesses help us stay in their minds and might even influence our next choices for our home cooked meals or our next take away treat. Never underestimate the power of keeping in people's minds.
Here are some great playlists above.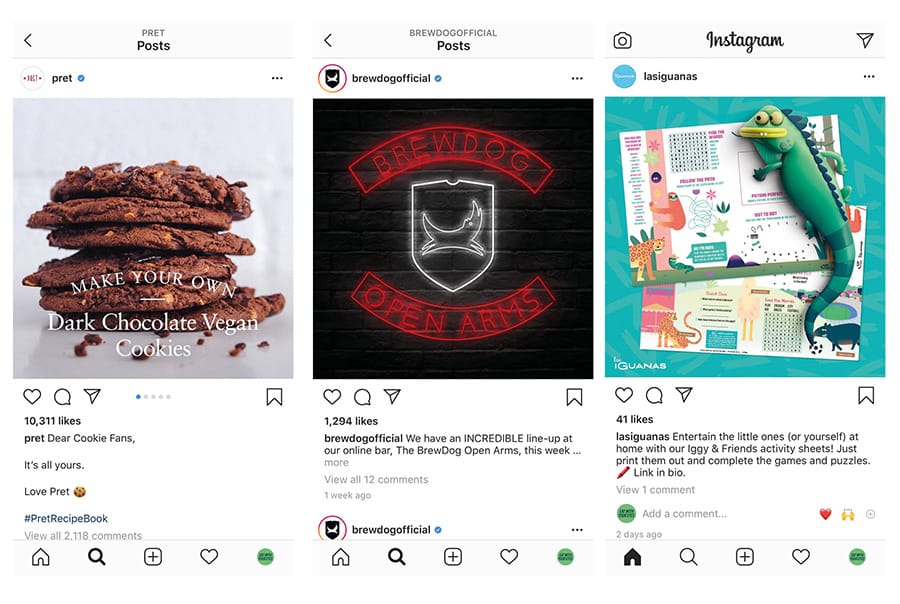 Great things we've seen:
We've covered quite a lot of great creative approaches of restaurants adapting and overcoming the current climate. Here are a few other exciting concepts we have seen pop up over social:
Brew Dog – Hand Sanitisers to Open Bars – Always disrupting the market these guys know how to get on our feeds, from creatively turning their alcohol stocks into helping the sanitiser shortage, they're just a spot of ingenuity. They have also designed an online 'Open Bar' where everyone is invited to join in communities, watch live art sessions and a whole lot more!
Pret – #PretRecipeBook – Pret have come up with a community platform of asking their customers to pick their favourite Pret products, and in turn they will come up with recipes that suit what customers ask for. It's a great move from Pret and their page is full of great recipes and tips to keep your cupboards looking interesting and healthy.