Food Trends X Design Trends
by Morgan Musselle
on 09/10/2018
Vegan Revolution
Only 1% of the UK population are vegan, but it's got the media spins and curious consumers are trying it for the purported health benefits.
Responsive Logos
Brands have to engage across more platforms than ever before – so brand logos are adapting to work harder.
Back to British
With Brexit on the horizon we'll be seeing a British come-back. Wetherspoons have already swapped spirits such as Jagermeister for tastier and cheaper British alternatives.
Motion
Print isn't dead, but animation is certainly alive and kicking – and it's essential for engaging online and social media!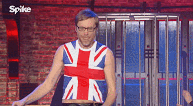 Low & No Alcohol Beverages
Millennials aren't drinking alcohol – but this massive new market are still thirsty for great experiences.
Colour Gradients
Brave colour combinations featured in dynamic gradients.
Less Waste
Food waste is massive, reducing it and keeping food prices down require some clever consumer education.
Big Fonts
Big fun fonts talk in buckets.
Naked Packaging
Supermarkets face criticism for over-packaging. The waste-concious consumer must be appeased.
Duotones
Unorthodox combinations of bold colour.
Delivery
If you can can cook it, someone can deliver it. With Deliveroo reporting success – the next big question for food brands is "will it travel?"
Retro / Nostalgia
People love a bit of nostalgia – it also evokes heritage and trustworthiness.
Our studio has always got one eye on the latest and best food and design trends. If this has got your creative juices going then give us a call about your next project.