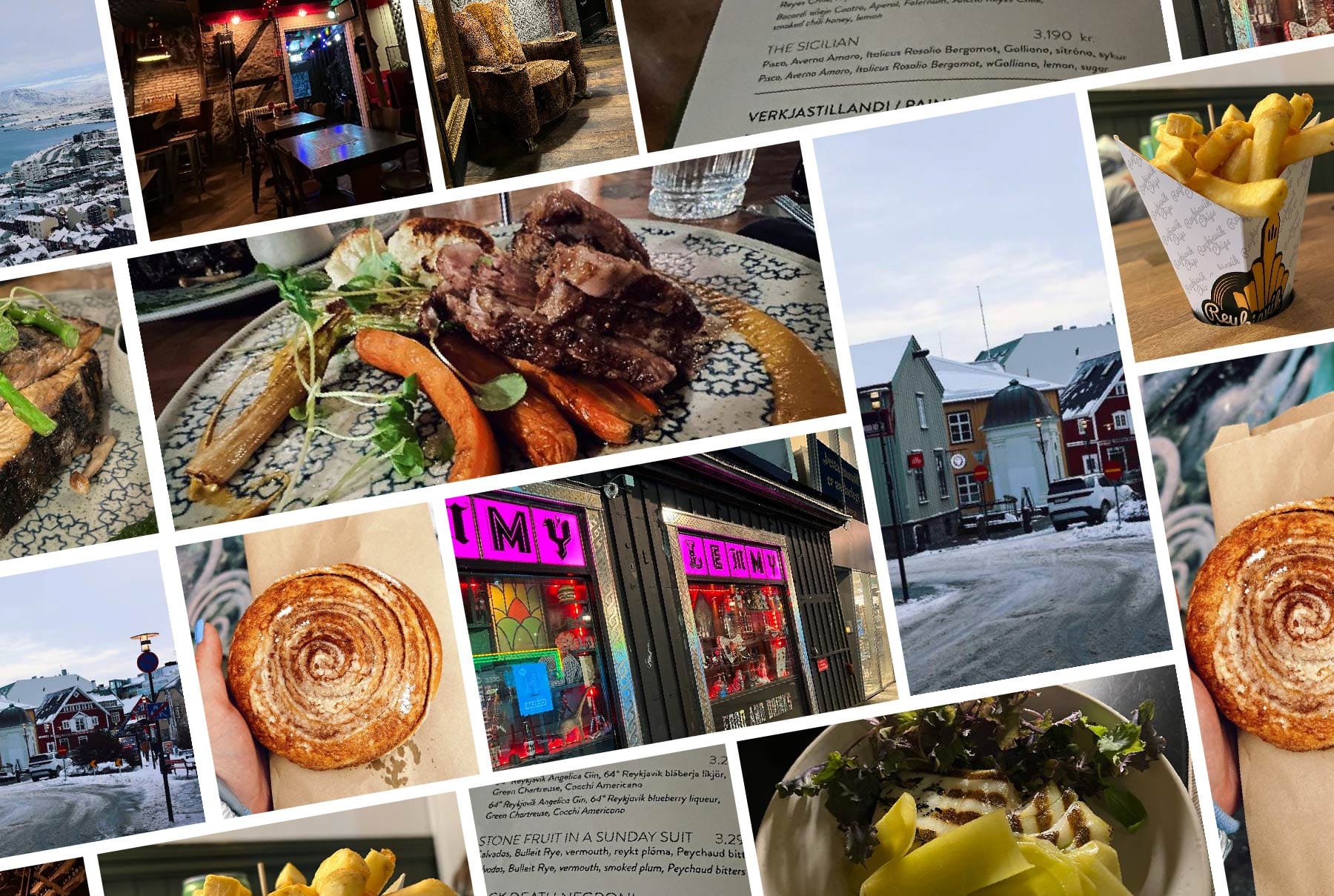 ICELANDIC FOODIE DELIGHTS
by Chloe George
on 09/03/2023
Iceland is a bucket list destination for many – with a vast landscape that differs from the usual beach holiday or city attraction spots and weather that is both beautiful and brutal, Iceland offers an exhilarating ride for anyone willing to dive in.
But amongst the days exploring what capital city Reykjavik has to offer, and days braving the extreme elements to complete the Golden Circle tour; food and drink can bring warmth and comfort.
Iceland is known for its spectacular fish, lamb and even reindeer. And while on my recent stay in the Southwest of the island I did avoid the delicacy of fermented shark, I was able to sample the wide range of foods that the Icelandic culture offers. Making my way off the plane, itinerary in hand, I had a list of must-sees and must-eats that I was eager to start ticking off. This is definitely where social media shines; through word-of-mouth of friends and colleagues that had previously visited Iceland I was able to pinpoint the best activities to fill our time with, but when it came to food and drink all I'd heard was that it was extremely expensive. Later in the trip, our tour guide Thor (skilled at keeping us entertained throughout coach journeys over an 11-hour trip, with Icelandic facts doused in cheeky humour) explained how Iceland has a population of only around 400,000 people with 300,000 in Reykjavik alone, so they need to make sure they can create sustainable profit from tourism and consumerism.
So instead, I headed to Instagram and TikTok to search for recommendations of great food, warm atmospheres, and funky aesthetics.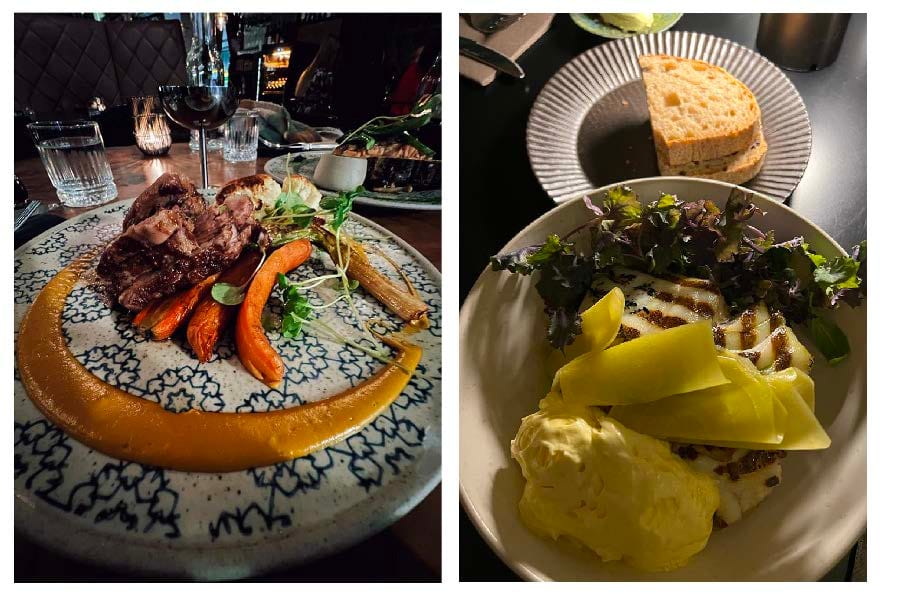 First on my list was to find a dinner spot that would offer great options for my gluten-free travel companion and would give us a great introduction to Icelandic food. We settled on Apotek, with a wide range available, and a dark but cosy feel. What was noticeable throughout my stay, and on this first night restaurant experience, is that the Icelandic humour is incorporated throughout their menus. Apotek sectioned out their cocktails into types of medications with the menu name of "Prescription". Sections such as "Stimulants", "Painkillers", and "Stress Relievers" detailed a range of cocktails with more personality and extra oomph than the standard martini, or Negroni. The entire meal was fantastic, with attentive service in a grand setting; but the stars were most certainly the lamb rump and salmon fillet.
If your itinerary is packed with places in and around Reykjavik, Iceland offers plenty of quick eats. Another fun fact from Thor, was that Iceland is home to the biggest KFC in the world (with the cheapest thing you can buy on the menu still coming in at around £8), however why go to another country and try the same brands you are used to at home? In between venturing to the top of Hallgrímskirkja church for panoramic views of the city, and museum and gallery hopping from attractions such as the Islandic National Art Gallery, the Phallological Museum (which even encourages an alcoholic beverage as you walk around) and the Harpa Concert Hall, there are plenty of snack and grazing style offerings to try. The Brauð & co bakery, very close to the Hallgrímskirkja church, presented me with possibly the best cinnamon swirl I've ever eaten but also serve the more unusual flavours of buns, pastries and breads so there's really something for everyone. Proud of their stock, they also encourage photo-taking to be shared on social media so feel free to get snap-happy when you visit.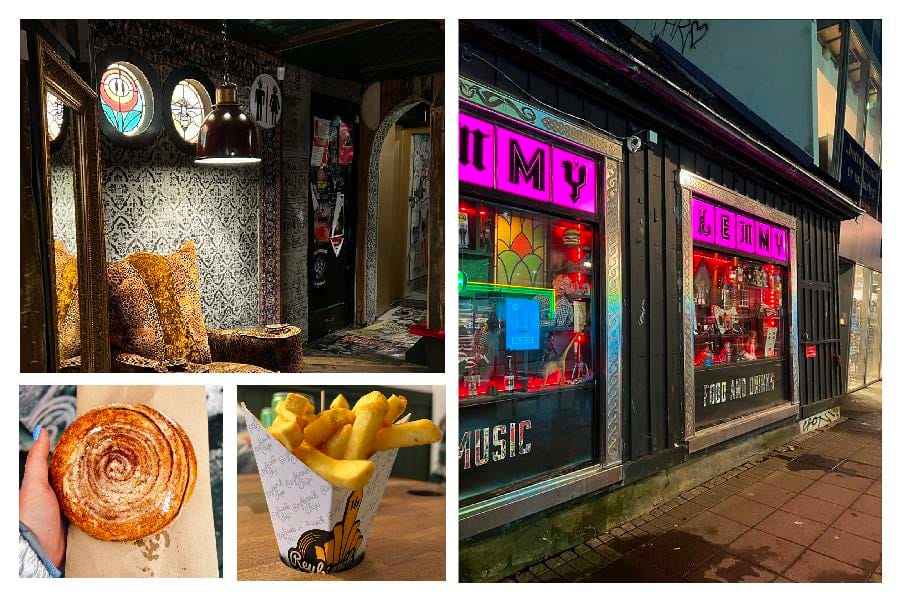 Nearby the Rainbow Street which features numerous bars, cafes and shops as well as a great opportunity for memorable photos, Reykjavik Chips and Lemmy Bar were two of my favourite establishments throughout my visit while Lemmy is a great rock pub with good food, great beer and attitude to boot. We found there were numerous rock pubs, and intimate live music venues to fill your nights with something fun and a little more wild; Reykjavik was even home to a Punk Museum in old fitted-out public toilets, so it really is a great way to learn about the culture in Iceland.
As I made my way back to the airport for my return to the UK, I could conclude that my snow boots had held up just as well as my expectations for the known Land of Fire and Ice. With such a variety of food available, with a sustainable approach to using seasonal produce, I came away with a feeling of fulfilment having been able to make the most of Iceland as possible.

Bio: Chloe George – Junior Account Manager
With a degree in Film & Television studies, and a passion for writing and social media, Chloe loves to use her creative thinking to research, explore trends, and write.