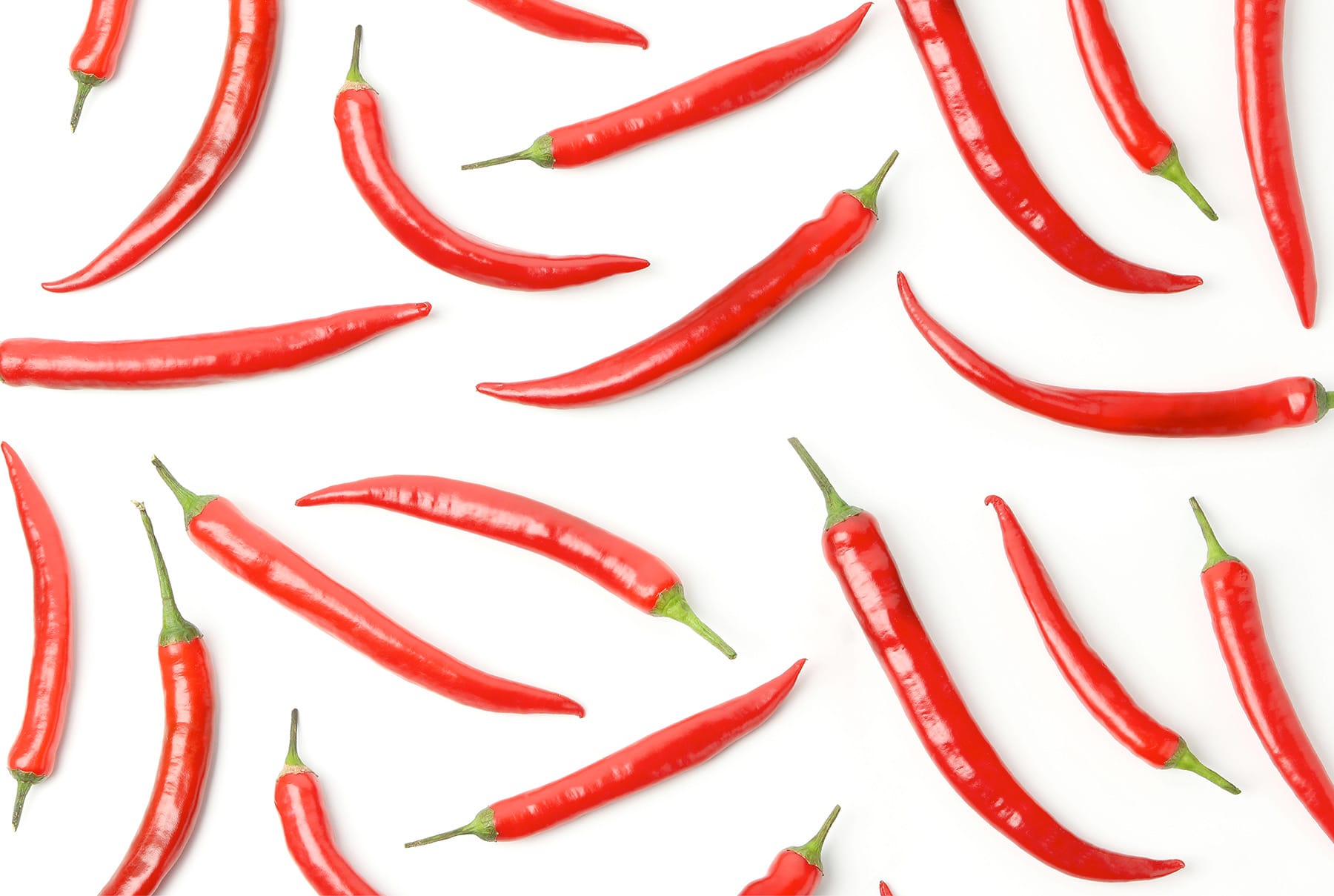 IT'S GETTING HOTIN HERE…
by Paul Pisani
on 08/06/2021
Chilli-loaded creative food & drink is continually expanding on menus
Across the Atlantic, the trend toward hot and spicy has been heating up for some time now, with consumers eating (and seeking out) chilli spiked food and, interestingly, drink.
Research from Kalsec​ (a global producer of spice and herb flavour extracts), tells us that more than 50% of consumers say that they choose spicy options when dining out or eating at home – double the number from just two years ago.
Chefs and mixologists are responding to the growing desire for fire by delivering spiciness, even in ingredients or dishes that aren't typically spicy, such as bacon, cocktails and desserts.

On fire …
For a while, established fast food chains like KFC and McDonald's have been adding heat to their menu Stateside, increasing the options and pandering to a desire for explosive flavours. Iniburger, a small chain in North California has come up with a surprising new concept, their Nashville Hot Chicken and Ice Cream sandwich. This crazy beast consists of cruelty free fried chicken, home-made coleslaw and vanilla ice cream with their own 'very' hot sauce. It appears the appetite to test one's self and stress their taste buds is more prevalent than ever. Apparently the ice cream cuts the heat and elevates the flavour, according to their founder Abdul Popal. This uniqueness helps set them apart and create conversations, which anyone in the hospitality industry knows, can be the holy grail to success.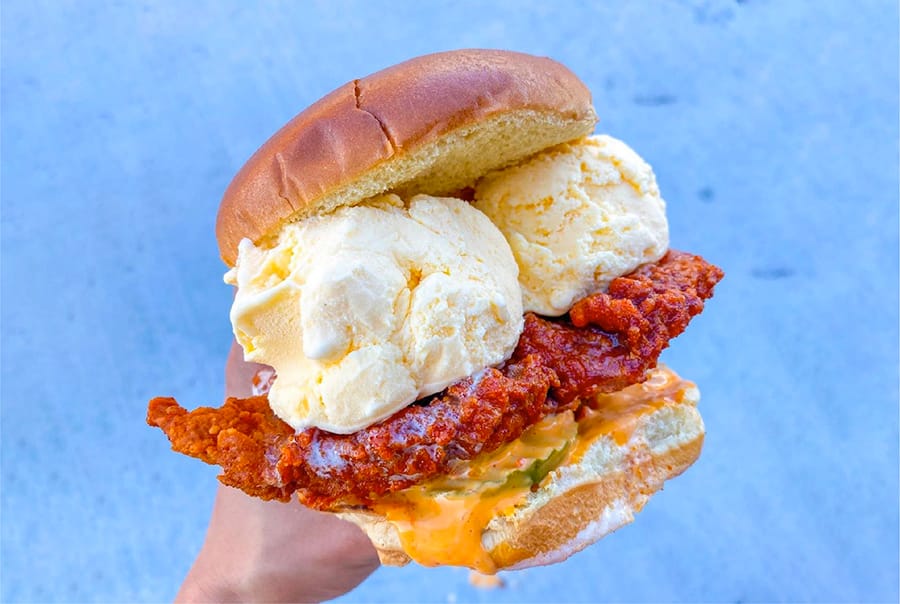 Spiced up burgers aren't a new thing; however, innovative outlets are fuelling the fire. Burgerfi, an American chain with around 120 outlets, have recently created a limited-edition SWAG Burger. A premium double burger with wagyu brisket with charred jalapeños, candied ghost pepper bacon, sweet tomato relish, habanero pepper Jack cheese and hot steak sauce.
BurgerFi's chief culinary officer, Paul Griffin, said that they thought it would be fun to start playing with ingredients and textures. The candied ghost pepper bacon is perfect for those guests who are more adventurous. Mixed with the boldness of wagyu, creaminess and kick of habanero pepper Jack cheese, the burger has class but packs a real punch. This cheeky little offering has been BurgerFi's best-selling limited-time offer to date.

Pan-Asian Roulette…
Another interesting, new and engaging concept comes from Sunda New Asian, a restaurant based in Chicago and Nashville.
They are offering a 'spin' on the spicy food trend with their new 'Gambler Sushi Roll'. The restaurant has a signature ghost pepper sambal, a chilli paste made with rehydrated ghost peppers. This is incorporated into one piece of a sushi roll that's served on a spinnable plate with a poker chip in the centre. After spinning the plate, one 'lucky' punter at the table gets the taste of the super-spicy sambal.
Sunda's owner, Billy Dec said; 'We were intrigued by customer perceptions behind how hot a ghost pepper would really be, we saw guests literally feeling like it was a gamble to try one or not'. He continued; 'It inspired the idea: what if we gave a whole table the interactive experience to really feel the gamble as a group, and give the vehicle a creative spin (pardon the pun) to amplify the anticipation and emotional reaction to all'.
Since not all guests can handle that level of heat, the restaurant has to keep shots of milk ready for anyone who needs assistance to cool down after a bite of the famously hot pepper, which researchers have ranked as one of the hottest chillies in the world.
The Gambler Sushi Roll has been a huge hit, with many guests sharing their experience, or making return visits for a chance to see their friends fall foul of the mighty ghost.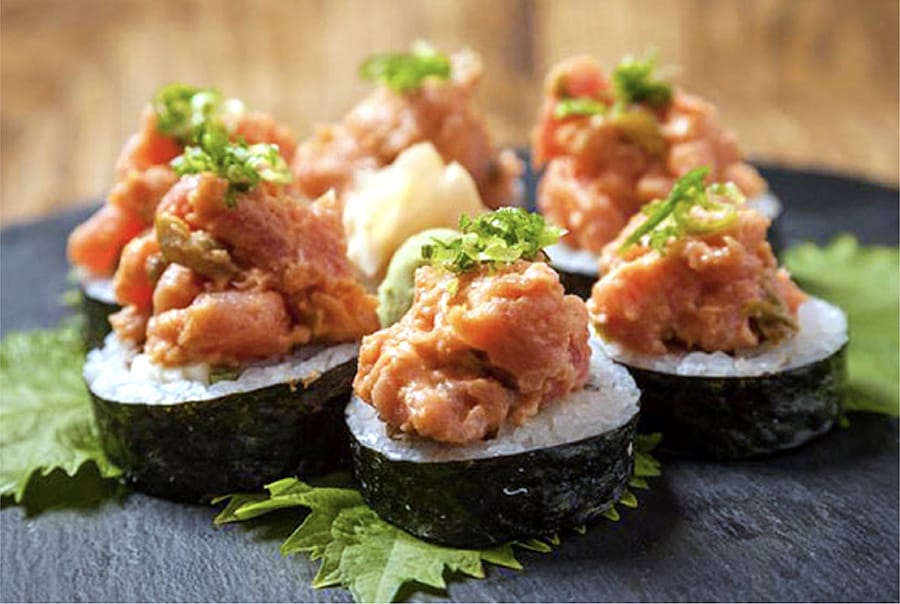 It's not just food that's getting heated
Across the States, it appears that operators are increasingly adding an unexpected spicy kick, in combination with sweet, smoky or sour elements to create unique and engaging, shareworthy beverages.
On the milder end of this trend, Baskin-Robbins have released their Mangonada. A frozen beverage made with mango purée, salty-sour chamoy sauce and tajín clásico seasoning, a blend of mild chilli peppers, lime and sea salt.
Baskin-Robbins has used spice in its ice cream flavours previously, however this is the first time the chain has used it in a beverage. So far, sales at Baskin-Robbins stores nationwide (throughout May 2021) are doing phenomenally well.
To create a stir, other operators are mixing up cocktails that are all at once spicy and smoky, with a touch of sweet or sour.
At Hampton & Hudson in Atlanta, lead bartender Lex Valles-Armand is serving the 'I Wanna Get Jalapeño Business' cocktail. This cheeky little number is loosely based on a classic Margarita. It is made with Banhez Mezcal, pineapple-jalapeño cordial, lime, simple syrup and basil, but this naughty little creature is garnished with drops of jalapeño oil. Valles-Armand describes the cocktail as 'smoky, spicy and slightly sweet'. Creations like this can really turn a drink into an experience and transform an ordinary night into an extraordinary occasion.
Also offering a fiery alternative on a classic Margarita is TGI Friday's. One of the newest additions to their Stateside drinks menu is the 'Fire-Eating Fireball Margarita', made with 1800 Silver Tequila, Fireball Cinnamon Whisky and sour mix.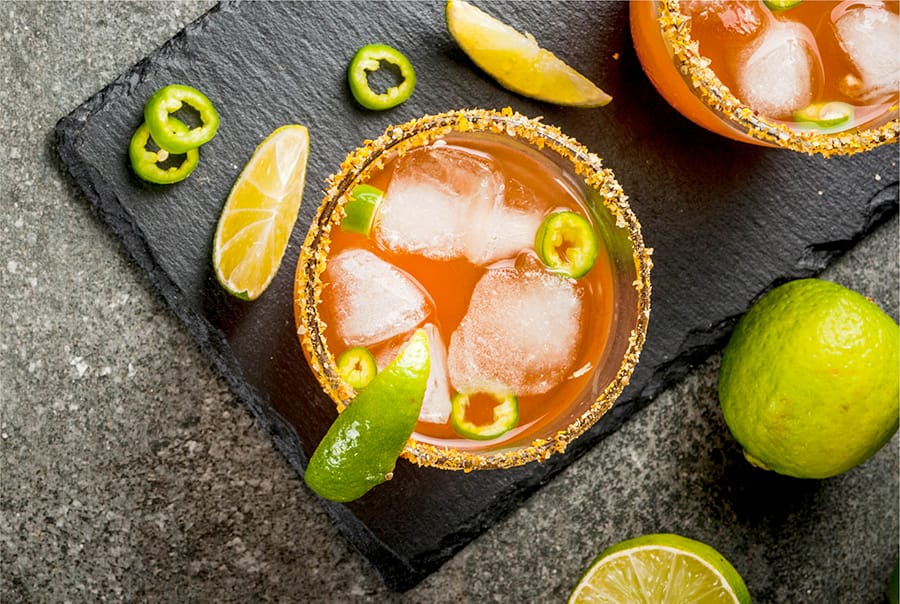 The top-selling drink at Curio, a restaurant and bar in San Francisco's Mission District, is a smoky, spicy and sour 'Chupacabra'. This cocktail is made with tequila, mezcal, passion fruit, lime, habanero peppers, blue curaçao, yellow Chartreuse, grapefruit bitters and cinnamon. It's available as a single cocktail or in a growler that serves four.
As is normally the case, trends from the US tend to find their way over to the UK and Europe. With lockdowns ending and the common feeling across the nation being one of 'you only live once' and 'life is too short', experiential and daring experiences will become more prevalent and this will no doubt follow into food and drink. Anything that can help consumers start conversations, share, show off and get fully engaged and immersed can only be a good thing for the food and drink industry. So, test your bravery and taste buds and challenge yourself to a more daring choice next time you venture out.
Bon appetite and keep the Haribos handy!

Bio: Paul Pisani – New Business Director at Eat With Your Eyes.
With over 20 years in creative services, Paul establishes both new and ongoing relationships for brands, and is your first point of contact at Eat With Your Eyes.
Image Source –
Iniburger.com / sundanewasian.com