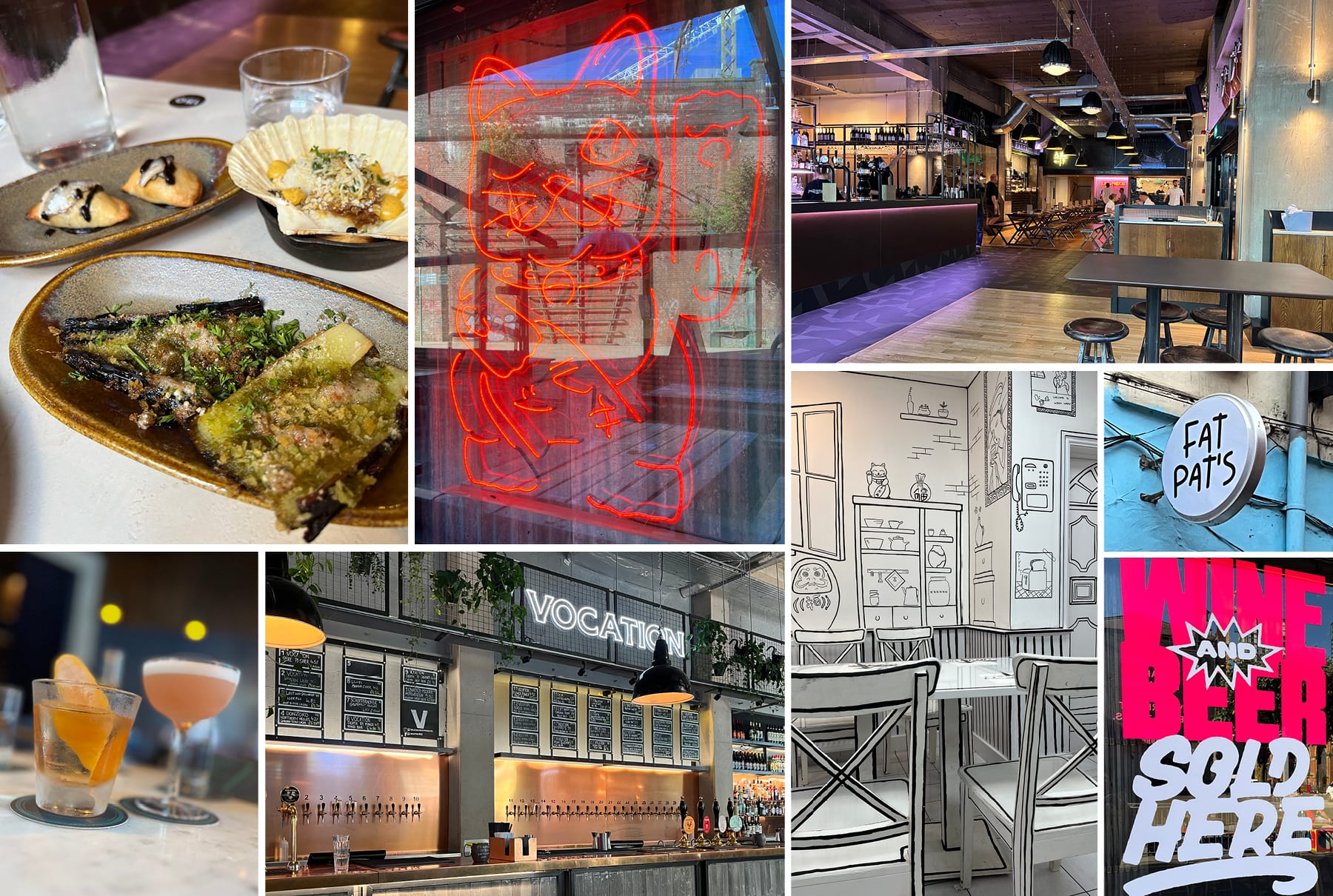 MANCHESTER FOOD SAFARI
by Steve Humber
on 11/09/2023
I was lucky enough to enjoy a couple of days in Manchester on a food safari; exploring the eateries that this fantastic city has to offer. With so much focus given to London and all the food outlets that our capital has to offer sometimes other cities are overlooked. Manchester is the fast becoming the foodie capital of the UK, with mould-breaking indie concepts sitting side-by-side with established brands, there's a smorgasbord of choice.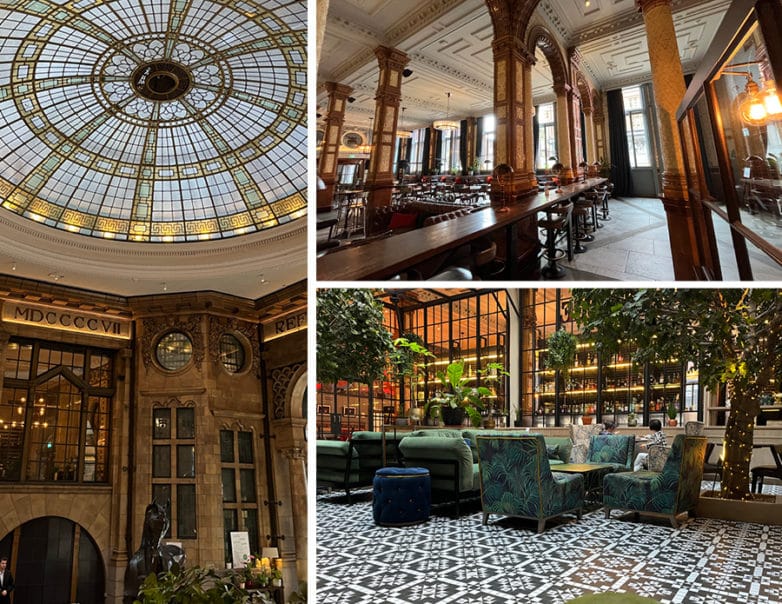 The base for my time in Manchester was the stunning Kimpton Clocktower hotel; located on Oxford Street, it is a magnificent Grade II-listed building dating back to the 1890s. Originally the headquarters for the Refuge Assurance Company, the hotel retains many original features.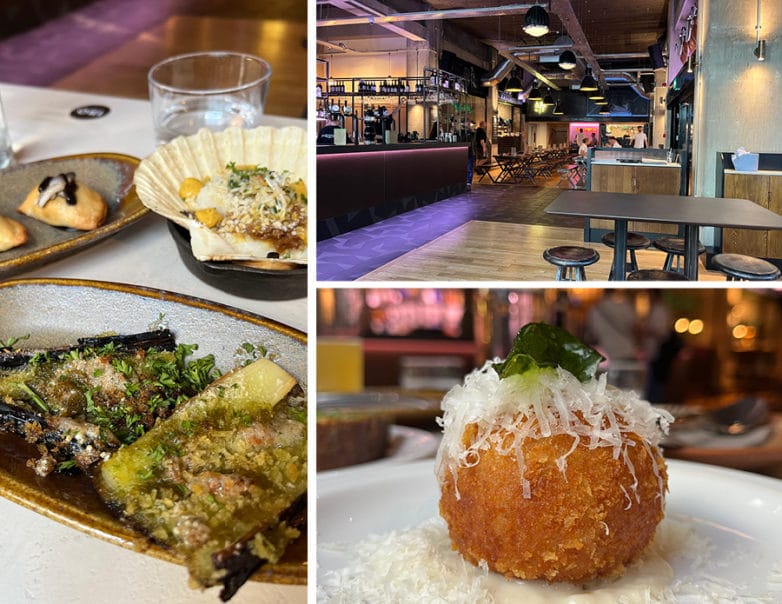 The first stop was Exhibition; located on the site of the old Natural History Museum, the restaurant offers the choice of three kitchens from hearty Basque dishes and fresh pasta, to sophisticated Norwegian minimalism. With a choice of intimate booth seating or the more social bench seating you, use one menu to choose from the three different food offers. My highlight was Arancino 'Al Ragu' an aranchini ball of fried saffron risotto rice filled with house sugo and Fior di Latte. After dark Exhibition transforms into the biggest party on Peter Street with nightly DJs, live singers and solo instrumentalists all joining the line up.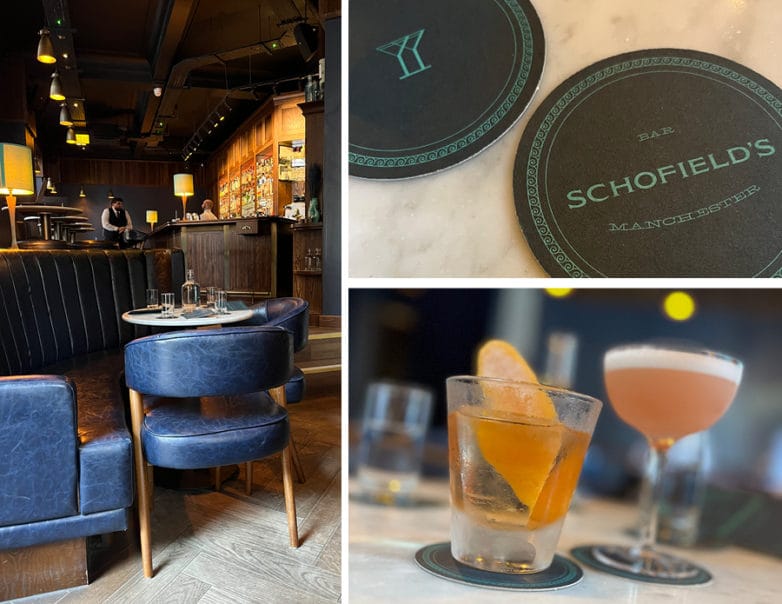 After a tasty start, a quick palette cleansing cocktail was required so we headed for Schofield's Cocktail Bar  located in the iconic Sunlight House; an art deco masterpiece of architect Joseph Sunlight which was the tallest building in Manchester upon completion during the 1930s. A calm refuge in the city and the perfect place to take five.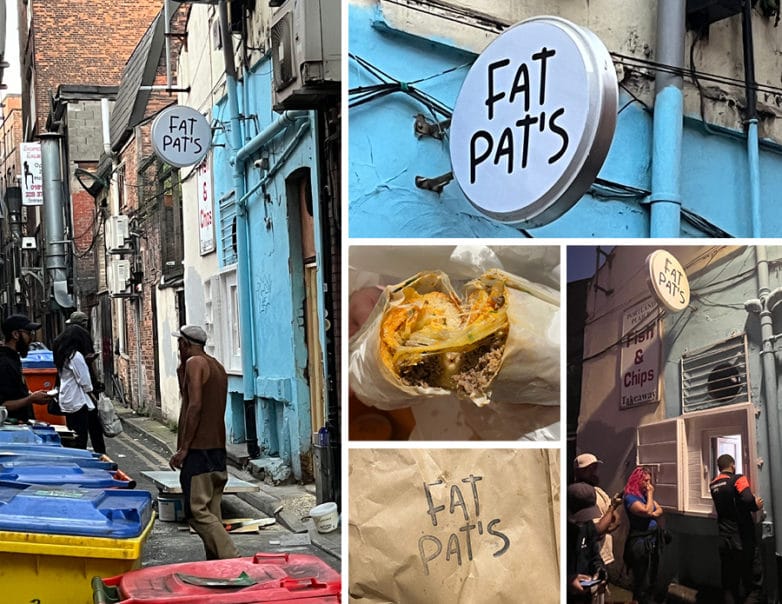 As a complete juxtaposition to Schofield's our next stop was Fat Pat's – a sandwich shop that is taking social media by storm. Hidden down a Chinatown alleyway you submit your order online and are given a time to collect from a small hatch window. With a choice of three different subs and 'ziggy' fries this social media sensation certainly delivered on taste. The Philly CheeseSteak sub was sublime, a flavour explosion. When you're next in Manchester do not let this cult sensation go untried!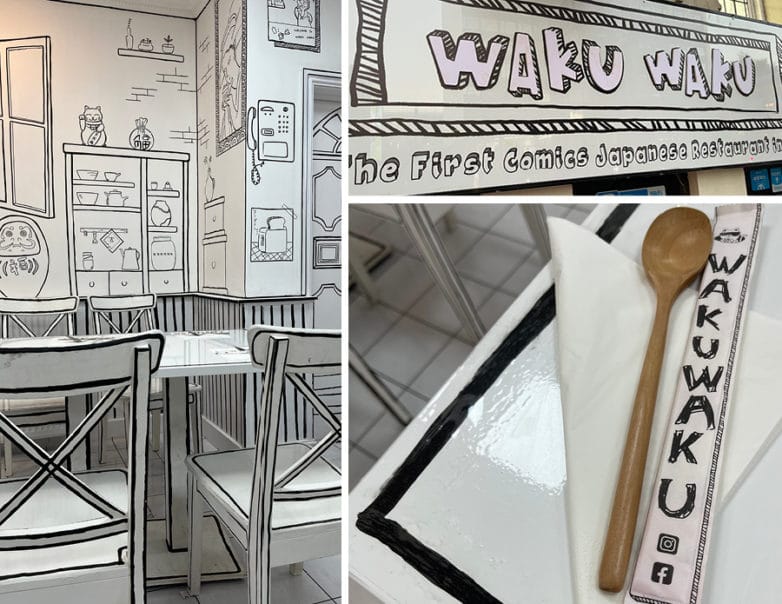 To round up our first day we headed to Waku Waku on Portland Street. Walking into Waku Waku, is like walking into a cartoon. It's pretty disorientating at first, but you eventually get used to it.
Then you start looking at the details. There's a rendering of the Last Supper, but with cats wearing cool sunglasses instead of the apostles. The entire restaurant was hand drawn by the owner taking him four months to complete.
The menu is authentic Japanese cuisine, from a traditional rice bowl dish called Donburi, an omelette made with fried rice to deep-fried pork cutlet bowls! Not to mention teriyaki dishes, nigiri, handmade sushi and more! With dishes that are super tasty, full of flavour and look amazing.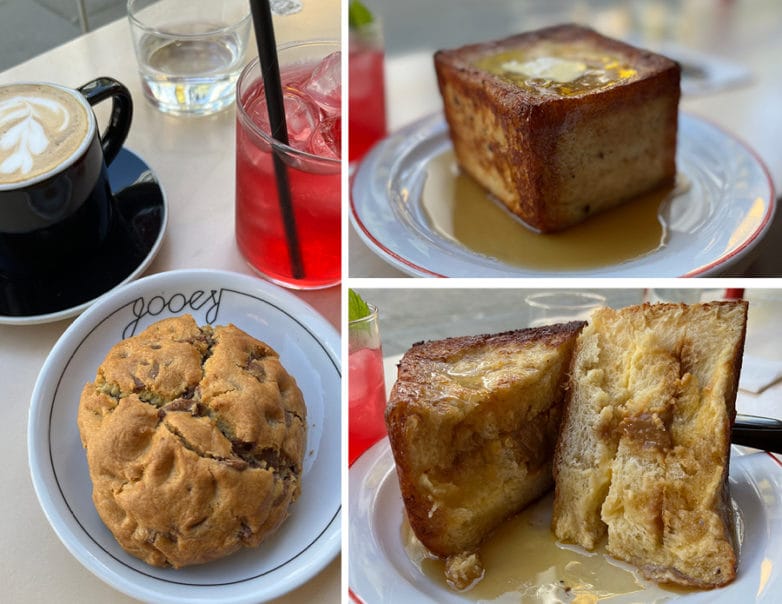 Day two started with brunch at a bakery and café in the Northern quarter of the city. If you're a fan of brunch and baked goods but it just has to be Instagrammable, Gooey Bakery & Café  should be top of the list.
Few brands in Manchester have reached cult status quite as fast as Gooey. Bread and pastries are made in-house at Gooey and Head Chef, Romin and Head Baker, Daniel have worked closely together to create a menu that fits the brand beautifully.
Japanese sando-style breakfast sandwiches are served on fluffy shokupan bread. Bacon is black pepper-cured, the soft-boiled eggs are sunshine golden Burford Browns and even the red and brown sauce is house-made.
The instaworthy brioche French toast was off the chart. Either bring a big appetite or someone to share it with as this monster slab of sticky, sweet goodness is a meal in itself!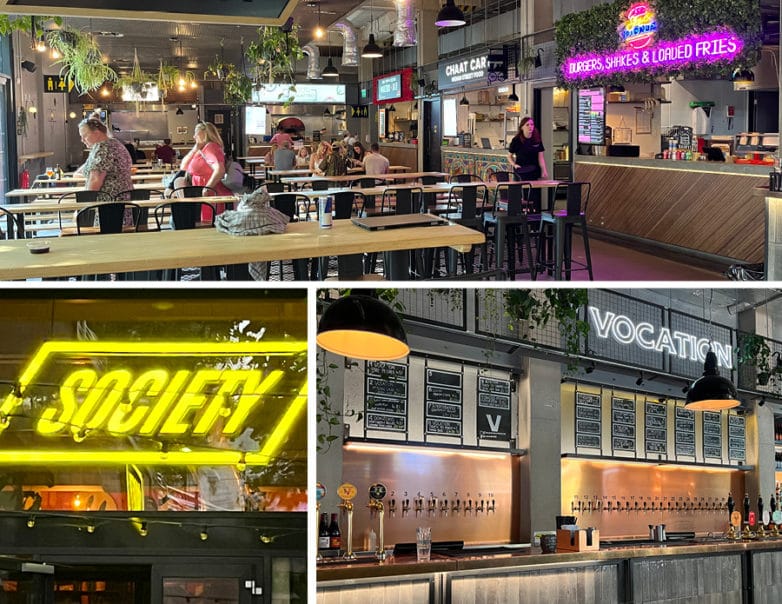 Our final destination was Society.  Society features four independently-owned kitchens, from the towering burgers of Slap & Pickle, pan-Asian specialists Manzoku Street Food, flavoursome Indian street food from Chaat Cart, authentic Italian pizzeria, Noi Quattro and experts in Korean street food, Yoki Social Table. Society also houses a cocktail bar and specialist taproom by craft brewery Vocation.
The high-ceilinged space can welcome up to 350 guests and is filled with nooks, banquettes and long tables designed to allow visitors to dine, drink and socialise throughout the day.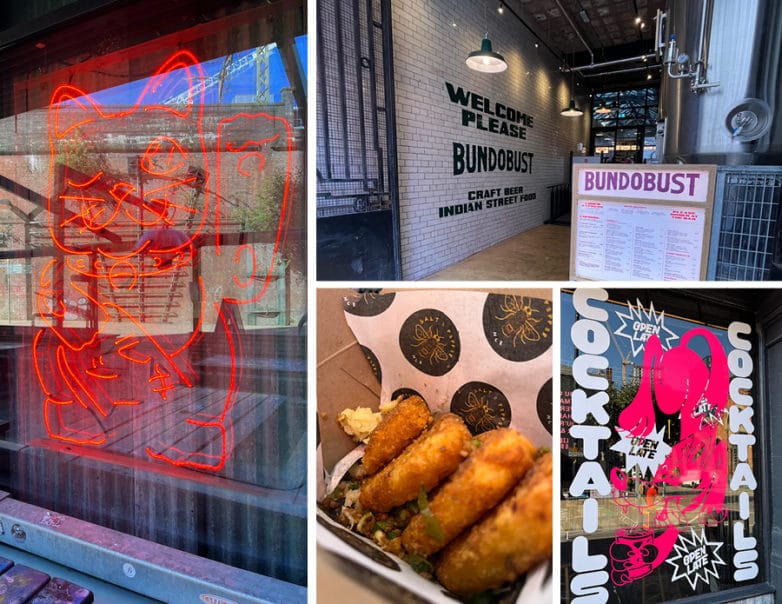 With so many independent outlets to try in Manchester it's difficult to fit them all in but some other notable mentions from the whistle stop tour include Wolf at the Door  for some amazing Bao and Tacos along with some amazing beers.
Salt & Pepper for a modern twist on all things Chinese- the perfect lunch spot!
Bunny Jackson's for cold beer, chicken wings and more!
Bundobust vibrant Indian street food served with craft beer.
If you are looking for some good food, great venues and things to do and you're tired of London why not head north, it's the new South!

Bio: Steve Humber / Managing Director
With over 25 years experience at various agencies. A meticulous artworker, when he is not sending files to print Steve is our go to man in the office.