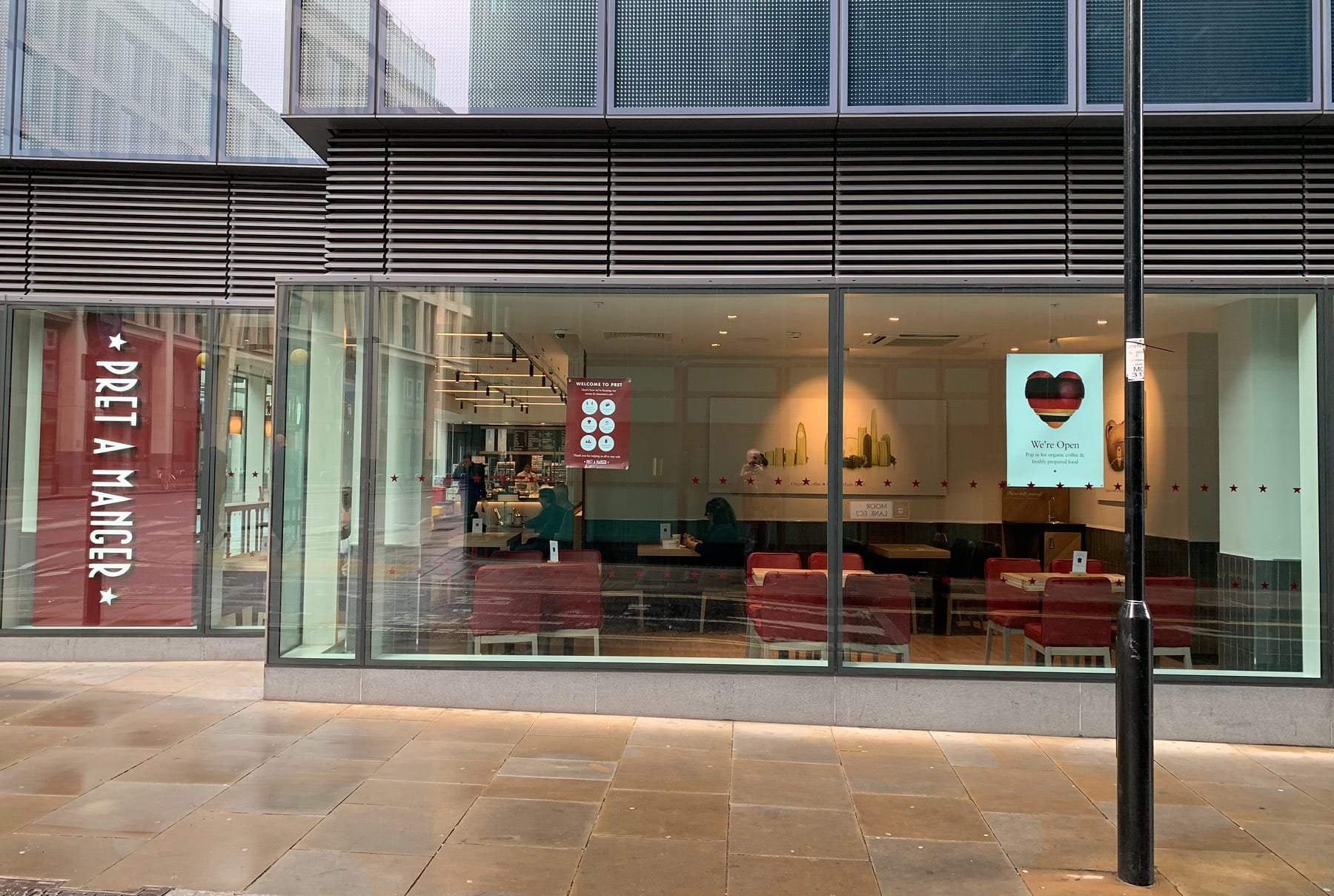 OPENING THE DOORS TO HOSPITALITY ONCE MORE
by Lois Hillier
on 30/07/2020
4th July
The date that changed the path for many in the hospitality industry as Covid continues to spread across the globe. A moment of anticipation, excitement but also a wave of anxiety as business owners across the country came to terms with the new measures of opening their doors again.
For many customers, it was a welcome relief as we began to see things regaining a bit of normality. The new normal that is. But for many still, it has been the last thing on our minds to be voluntarily mingling in shared social places as Corona continually ignites as the biggest threat on society today.
Seeing it for ourselves
At Eat With Your Eyes, we have very much welcomed the opening of the hospitality industry and have delved into our locals and further afield to give you a taste of what's been happening over the last month and how we feel about the nature of this 'new norm'…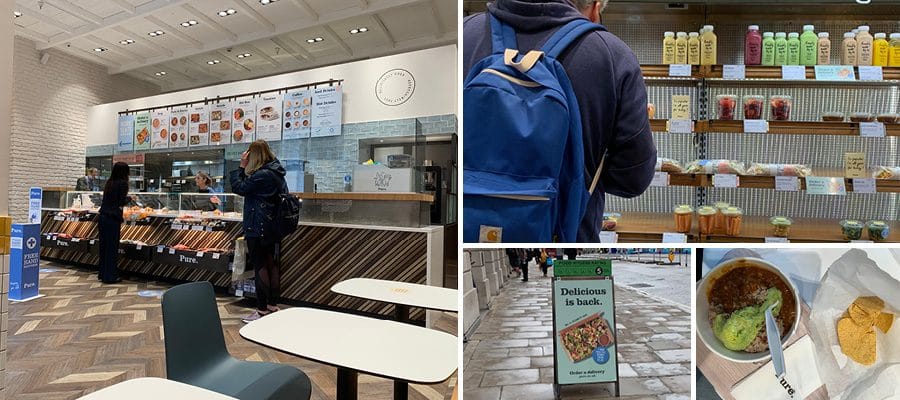 Pure, Moorgate – London – Wed 8 July – Lunch
Tony Chambers
Myself and Steve our Creative Director had a site audit to do at Moorgate Station for a client in advance of a meeting. So this was my first real venture into central London since the Lockdown. I'd read a lot about hospitality opening up again, so I was genuinely shocked by how quiet it was on the streets, and how little hospitality businesses were open. And it was obvious why so few were – no footfall, no-one working in offices.
We popped into Pure just next to Moorgate Station for a bite of lunch after our audit – it was 12.30. There were no customers inside. I went for a chilli hot pot and an orange juice to sit in and get a feel for the place and business. Steve had a baguette and drink, and a nice cookie! Food was served fast by the friendly team there. The large Perspex screens at the counter servery just don't feel like a barrier but do a great job in terms of protection.
Inside Pure, it really felt no different, business as usual, except for how quiet it was. There was a hand sanitiser station right at the entrance. But no bombardment of scary messages inside.
Talking to staff, they had been opened a month now, and footfall had not improved in that time – very quiet. It must be impossible to break-even in that situation, and must also be hard to control food waste etc. The food tasted great.
What a challenge hospitality businesses like this face right now. They desperately need more customers back working in London, but it looks like that's going to be a slow gradual journey, with many larger corporate organisations talking about people returning to central London offices from no earlier than January 2021.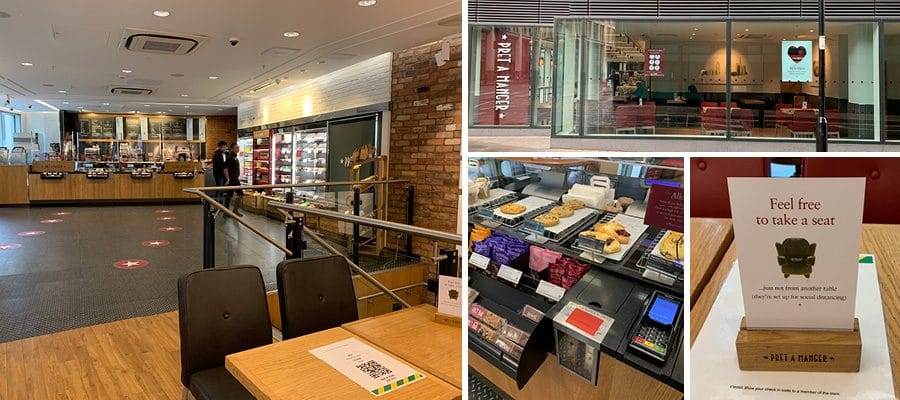 Pret, Fetter Lane – Holborn, London – Thu 9 July – Lunch
Steve Oakey
Heart of the Legal District, and again eerily quiet on the streets at lunchtime.
Walking around Central London, it's mostly Pret that have several branches open – but they're all very quiet, even at lunchtime. So even with the fact so many competitors have not opened up yet, business is clearly not there, nowhere near enough footfall.
It was yesterday that Tossed/Vital Ingredient went into administration – as we walked past a few of their closed outlets. Wasabi closed, Itsu closed, all the big coffee shop brand outlets closed. Really sad.
Inside Pret, it's clear they have a very well established system for queue control, distancing and tracking. Clear signage at entrance on what systems they have in place, floor standing hand sanitiser stations, floor customer flow signage, and once you order and pay, they ask you to login your presence via a QR card on every table, so they have your personal details if there are any infections.
The food and drink was to the usual high Pret standard – and it was great to have a Pret black Americano again after 4 months!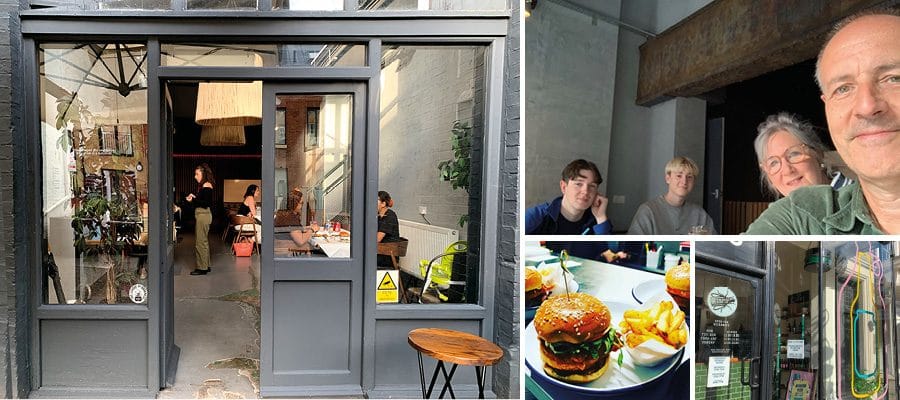 Herd, Gourmet Burgers – Bedford – Sat 11 July – Dinner
Tony Chambers
Herd opened its doors again to the public on Thursday 9th July. So I decided to book a family table for 4 for Saturday evening to give them support.
Herd is a local independent family run business which, along with Beerfly and a few other entrepreneurial hospitality businesses along St Cuthbert Street, has brought a touch of Shoreditch cool to the Bedford community. So really important to help these businesses survive this crisis.
Matt the owner told me they were very busy Thursday with take-away orders when I called to book. He outlined the safety and hygiene measures they had in place to look after staff and customers, and explained he had to take my card details with a reserve of £10 per head to ensure people turn up on the night due to distancing and reduced spaced out tables.
On arrival, we had to disinfect our mobile phones at a station inside the entrance, then wash our hands. Then we were taken to our table which had a clear 2 metres space between us and other tables. Toilets were unisex for each dedicated area of the restaurant, were cleaned every half hour, and guests were provided with sanitisers for personal cleaning on use if they wished
I ordered a pint of Meantime Pale Ale – my first pint out for months. It was great. Menu was more focused and limited, and mostly on mains with sides. But still a quality choice. We had some whitebait to share for starters with drinks. Then a mix of the Gourmet Burger choice for mains. Food was to the usual Herd high standards, and the staff service was the familiar friendly and caring standard I love.
It was just great to see a small part of normality come back to Bedford. A lovely evening weather wise, customers were sitting outside front having drinks, and as more guests arrived, there was a nice social vibe in the place.
Best of luck to Matt and the team at Herd at this challenging time. We all need to make an effort to support our local hospitality businesses if they are to survive and thrive again.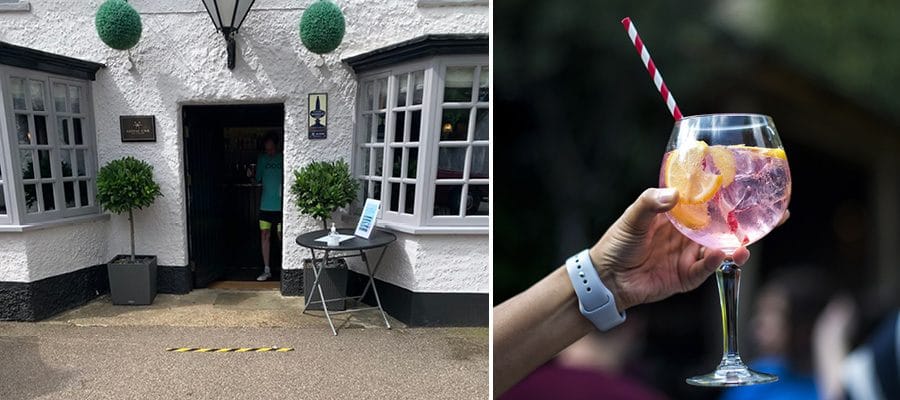 The Crown, Northill – Greene King – Sun 12 July – Lunch
Julia Thomas
I must admit I was a bit anxious on the short drive to the pub to what to expect and what rules to follow when we arrived. On first glance it look exactly as we left it over 3 months ago, in a lovely setting next to a church with the village pond at the entrance. The car park looked as busy as it normally would on a Sunday afternoon, the only difference was a queue of people spaced 2 metres apart coming out of the pub door.
The queue led directly to the bar, only one person per group were allowed in with a maximum of two people at a time. When I reached the door my name and mobile number were taken, I had to sanitise my hands with gel provided and then a temperature gun was then suddenly pointed at my head without any warning, that was a bit disconcerting! Only then could I enter and order drinks standing 2 meters away from the bar in a clearly taped area. All drinks then had to be taken outside to the beer garden. Food orders were taken from a table set up outside with a till and all tables were numbered for the waiting staff to deliver your food to the tables.
It felt quite controlled and organised, everyone was at a safe distance away from each other, when we get used to this new normal I'm sure I'll relax a bit more with my G&T too!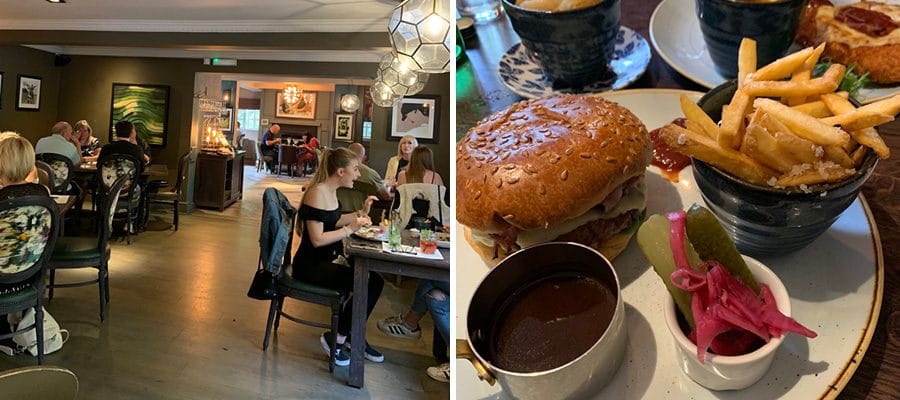 The Kings Arms, Cardington – Mitchells & Butlers – Fri 24 July – Dinner
Steve Oakey
Booked online the day before for a table at 6.30 on Friday eve. Really easy. No long list of questions. Just an e-mail confirmation.
Arrived and walked straight in. Waited at a table to be greeted and then shown to table.
Dining room was full of people with tables a little further apart than normal. Menus were black and white 2 sided A4 disposable. A few less dishes than normal but still a great selection. Other than that you would think you were back in the good old days when you could go out spontaneously without having to think about it.
Staff were great. Really chatty. Food was great. Experience was great. No nonsense. Just how you want a pub to be. Welcoming and relaxing. Great job by everyone to make you feel at home. I would thoroughly recommend it.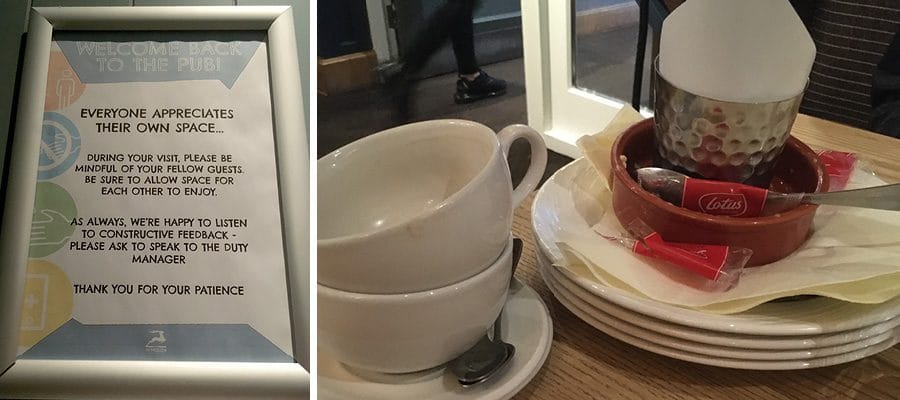 The Old Beams, Milton Keynes – McMullens – Sat 25 July – Dinner
Fiona Corneil
Visited on a Saturday evening for a family meal in a party of six. We were met at the entrance by the manager who checked our reservation details, asked if we were all from the same family and requested we use hand sanitiser on entry through the one way system. Inside the occupied tables were well spaced and the bar did feel quite empty with most patrons choosing to sit outside on the terrace where the space between tables was less stringent. Our waiter gave us our disposable double sided menus which offered a limited selection from the menu but with enough choice for each of us to still be making a last minute decision between our short-listed dishes when he came back to take our order.
The waiter explained that when bringing out our food and drinks he would bring them to one end of the table and ask us to take the drinks and hand them down. The idea being that the waiter would not get too close to each of us when serving over individual's shoulders was a simple way to maintain social distancing during service. It was a little reminiscent of school dinners and as I was at the end of the table, I was the prefect who got the job of handing out the plates and similarly of stacking them up at the end of the meal.
The toilets requested a one in one out system but with a solid wood door you couldn't be sure if there was anyone in there so you had to go in to check. Once in, alternate stalls and sinks were labelled as out of use to maintain social distancing.
Overall we had a lovely evening, and were chatting between ourselves so much that we didn't notice the missing thrum in the background of a usually busy Saturday night. Everyone was satisfied with the great quality food and made to feel confident in being out by the simple steps the pub had taken for the staff and customers to be kept safe.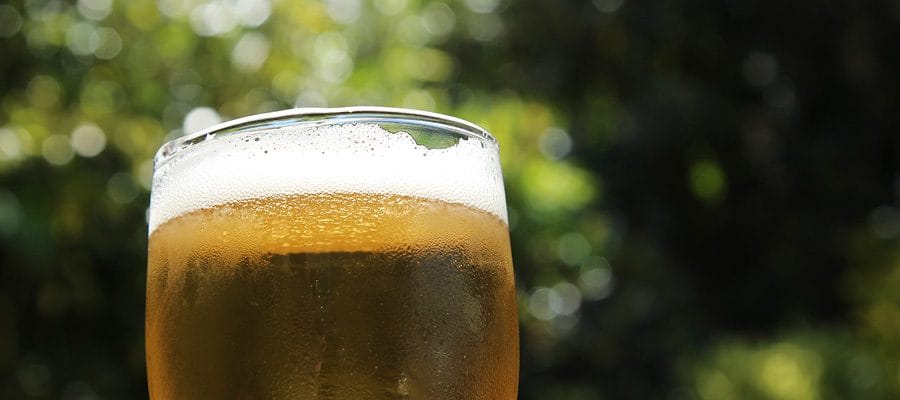 Greene King – Sat 25 July – Drinks
Chris Brown
I visited one of our local pubs for a couple of drinks on Saturday night, on the whole was really good (nice to be out of the house for a bit!) and felt comfortable/safe, they had got it working really well. You just texted your name to a number which was quick and easy to do. They have got a really good/large outdoor space with a bar but it was raining heavily so there wasn't the usual amount of people in there, but they said it had been really busy over the past couple of weeks, especially with the recent hot weather. Has definitely made me feel more confident about stepping out again, though would still be wary of places that are too busy/crowded.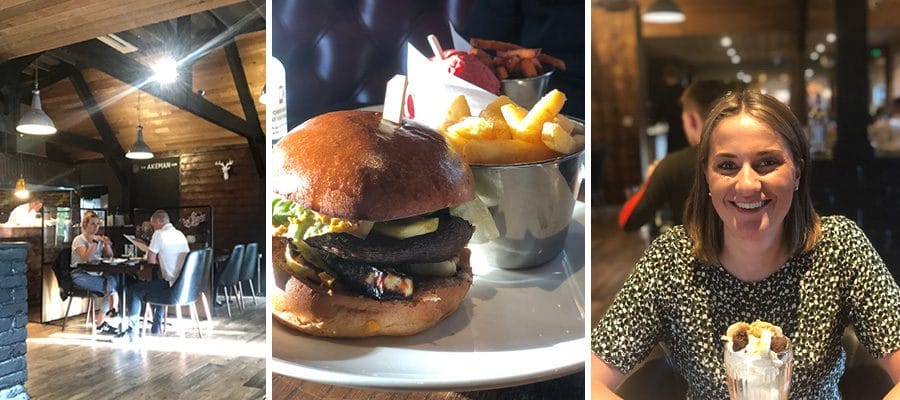 The Akeman Inn, Kingswood – Oakman Inns – Mon 27 July – Dinner
Lois Hillier
After hearing some positive reviews of The Akeman, I thought it was time to brave a night out. Booked a table online the morning of Monday. There was no faffing about, it felt pretty normal. Got to the restaurant for our 19:15 booking and was welcomed by a buzzing atmosphere.
We waited outside before being shown to our table. The restaurant was just how I'd remembered it, the furniture was just more spaced out than usual. They had a few perspex screens around, but they felt part of the decor.
The staff were wonderful and friendly. The menu was a one-colour double-sided A3 with plenty of choice. Being a veggie, I was worried about the choice but there was plenty! The smells, the chatter, it was just so good to be out again!
The food was beautiful! It was such a treat to eat a proper burger! We had taken advantage of the £10 off per head offer. It was super easy to fill out the online form and was certainly worth the discount on our bill.
I will be recommending people to go here for sure!
In summary
There have been many positives to come out of the current situation. Cleaner premises, an appreciation for the hard work of the hospitality industry, an appreciation of being able to go out and enjoy these luxuries. As we approach August, it will be interesting to see how the heavily discounted offers impact on our spending and the footfall of the industry…

Bio: Lois Hillier – Senior Designer
at Eat With Your Eyes.
With 5 years experience in the Eat With Your Eyes studio, Lois is a well-established member of the team creating brands from concept to completion. Researching, creating insight and grasping up-to-date trends comes hand-in-hand with harnessing expertise in the field of the hospitality sector and everything food and drink.
Image Source –
Herd_Bedford, Shutterstock, Employees of Eat With Your Eyes