Small Plates
by Jake Lockett
on 01/08/2019
This week, supermarkets have been accused of undermining efforts to feed children healthily by displaying confectionary near tills.
A study by the Royal Society for Public Health (RSPH) has said that none of the traditional format supermarkets they visited had healthy food options promoted at their checkouts and that one in three of unhealthy food purchases were purportedly on impulse because they were being actively promoted.
Parents also reported that 9 out of 10 snacks that their children pestered them for were for unhealthy food; an unfortunate bi-product of companies that create processed foods spending vast amounts on their branding to promote their products and separate themselves from their peers in a competitive market.
Britain has the worst obesity rates in Western Europe, with a 92% increase in the last two decades and two in three adults and one third of school children currently in the UK being overweight.
Along with the 'Sugar Tax' and rules about advertising junk food to children and many measures are being taken to make sure we don't sleepwalk into a potential health crisis. In January of this year, ITV launched 'Eat Them to Defeat Them', a campaign with loads of great resources designed to make children reconsider fruit and veg.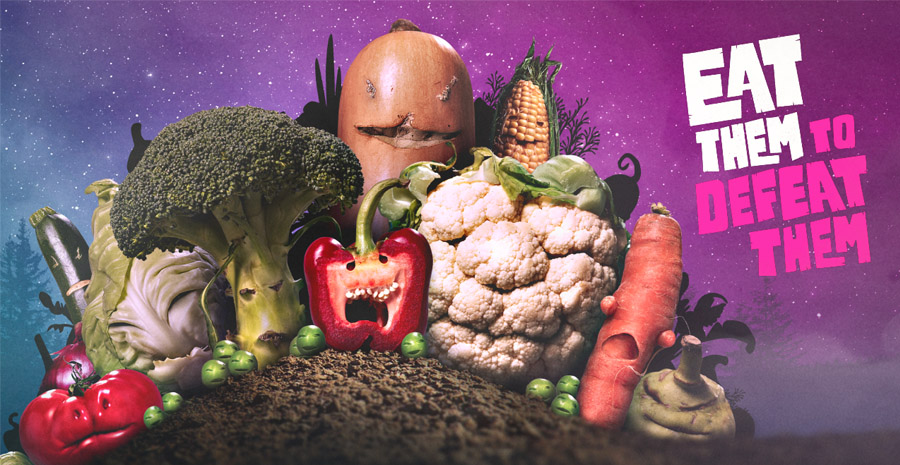 'Our kids are bombarded with advertising all day, but only 1.2% of the food and drink advertising on TV is for veg. No wonder so few are eating enough! To draw attention to this challenge we launched an advertising competition in collaboration with Sir John Hegarty and Hugh Fearnley-Whittingstall.'
It does still however paint vegetables in a bad light, as if they are something that needs to be taken care of rather than a fun and tasty treat. This got me thinking about what role individual brands aesthetics appeal to children and I wondered if move positive action could be taken.

Compare the colours and illustrations on these sets of packaging. It's easy to tell which products are being marketed as healthier, but is this an effective way to get children excited about your product? While I find the unhealthy snacks' branding crass, I feel that they are probably more appealing and engaging children themselves. Kids will always love confectionary, but strawberries are just as sweet as any chocolate bars and there is no reason why children shouldn't pester their parents for fruit as much as sweets.
Things are undoubtedly getting better as retailers are being forced to change their products to more healthy options, but the newer brands seem to still be lagging behind some legacy brands in their marketing strategies. I often get the impression that they are appealing to the parents, by aesthetically distinguishing themselves from less healthy brands, but in doing so, they often make themselves less accessible to children themselves.