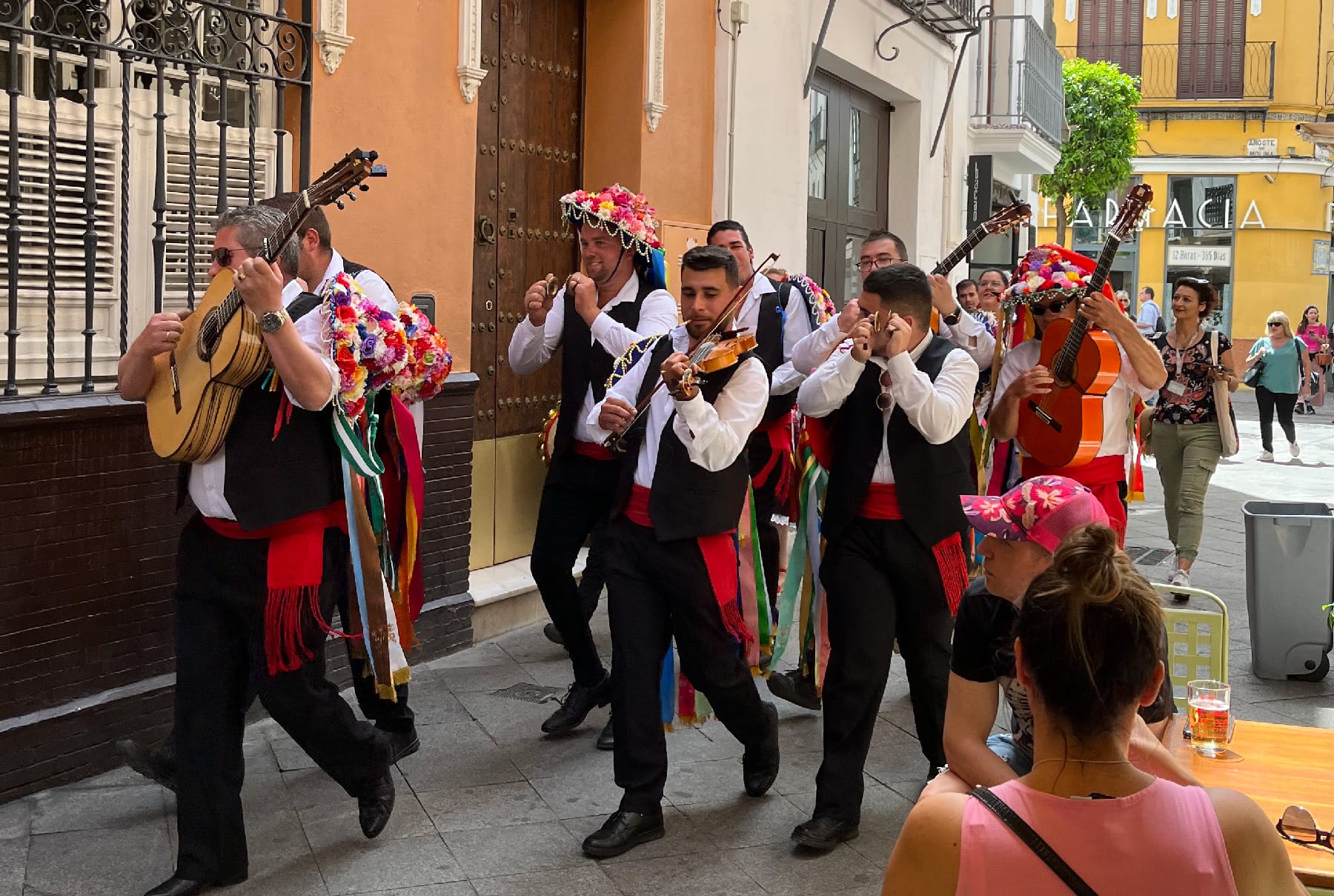 THE MAGICAL CITY OF SEVILLE
by Tony Chambers
on 15/06/2022
You know when you find a new place to visit where everything feels completely different, special, but still so real and human – well last weekend I got to visit Seville which is a trip I will not forget. It's such a magical city full of culture, ancient history, hospitality and surprise.
The host in the apartments I was staying said that Seville had the largest old town in Europe. It's a truly beautiful place – easily walkable and including all the most interesting places to visit in the city, moving through a magical maze of cobbled narrow shaded streets in the intense 34°C sunshine, into open squares with bars, cafes and tapas restaurants in abundance.
And for me the most magical part of the visit is the local food and drink. You'll find a few local tapas classics in many of the tapas bars. Each doing their own take – from very traditional to modern gastronomic.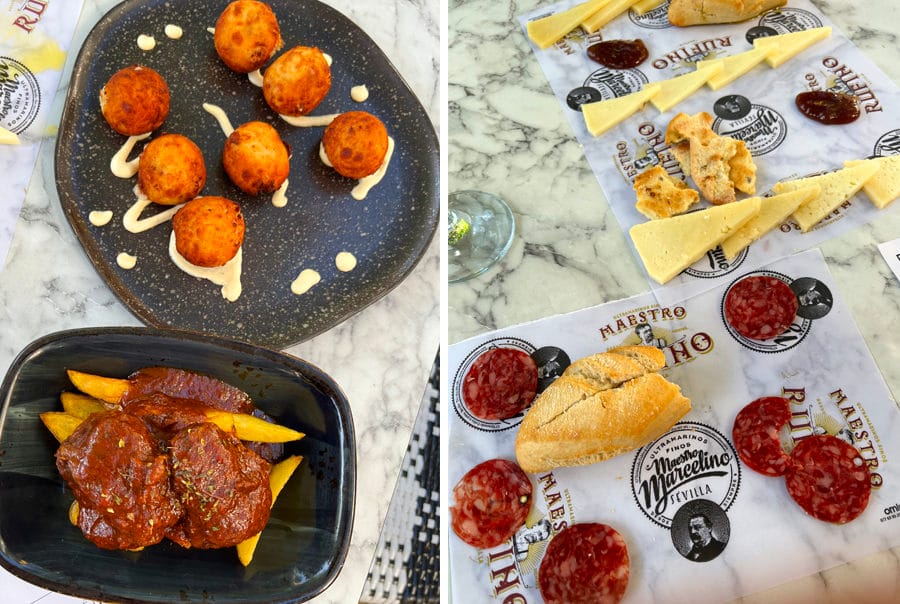 Much of the cuisine centres on the noble black Ibérico pig. Jamon Iberico – the local speciality everywhere – the best and most expensive ham in the world, complex, intense, unrivalled.
Aged local cheeses.
Deep fried local cuttlefish (Chocos).
Salmorejo – cold tomato soup with tuna, boiled egg and of course Iberican cured ham.
Fried eggs with Iberican ham.
Croquetas de jamon – ham croquettes.
Carrillada Iberica en salsa – Spanish style pork cheeks with sauce. A personal favourite I had in a few places!
And of course the drinks choice is special too – with some of the best wine, sherry and beer in the world to sample! My go-to drink in the middle of the day is a fino sherry – unique to this part of Andalucia and simply unlike any other wine you will ever taste – perfect on its own or with seafood tapas or local cheese.
There are bars and tapas bars on every street corner and lining every square. And even when you move out of the touristy centre of the old town into residential neighbourhoods, it remains the same – with a much more gritty and authentic feel – full of life and character. I just love popping in and trying different ones, with their own unique characteristics and menu items. They all have their own personality. From wonderful heritage places in the centre of the old town, complete with bull heads on walls near Plaza de Toros. To very modern smart casual such as ENSLAVA – highly recommended again by my apartment host Miguel. The ham croquettes are apparently the most popular tapas in Seville – a national TV channel were doing a piece in one tapas bar we visited the week before.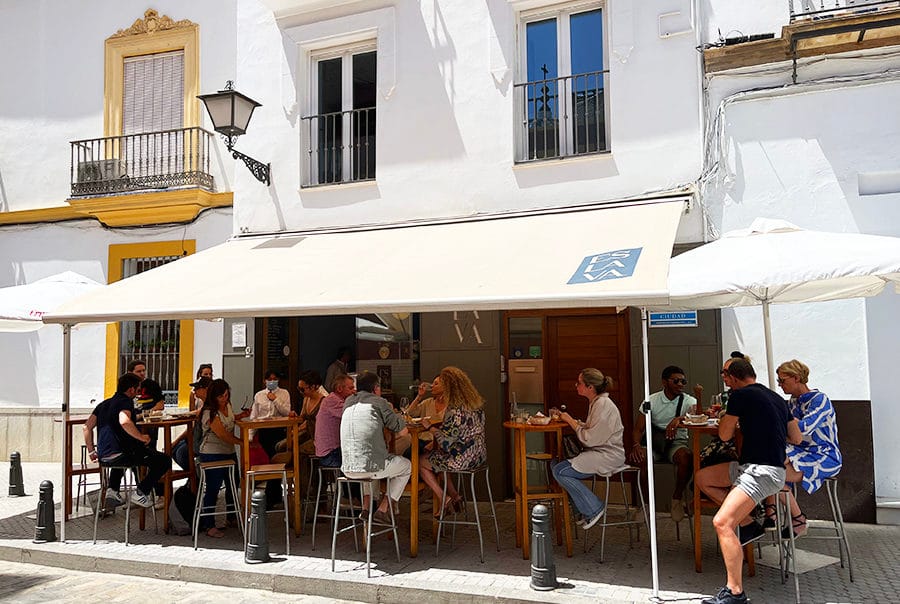 Fancy a break from the tapas scene? Slow food at conTenedor turned out to be the highlight evening meal of my short trip. This wonderful restaurant in a quiet residential neighbourhood to the north of the Old Town has personality, character and high quality food in spades, as well as really friendly and knowledgeable staff service.
Much of the produce is super local and organic. Really great abstract expressionist paintings on the walls (apparently by one of the owners!), and open kitchen which turns out some impressive plates of food, the large blackboard menu is brought to your table and displayed easel style propped on 2 tiered chairs! One of the young staff, with excellent English, will talk you through in great detail and with real passion, the choice of the day, and will recommend dishes and wines to suit your taste. Dishes included a great local cheeseboard, amazing salads packed with flavour, local fish, duck confit, homemade pastas.
We spent a couple of glorious hours at the Royal Alcázar of Seville, built for King Peter of Castile in the 13th Century, on the site of a Muslim residential fortress which dates back to 700ad. An incredible example of Islamic architecture and art evolving and blending into later Gothic, Renaissance and Romanesque design.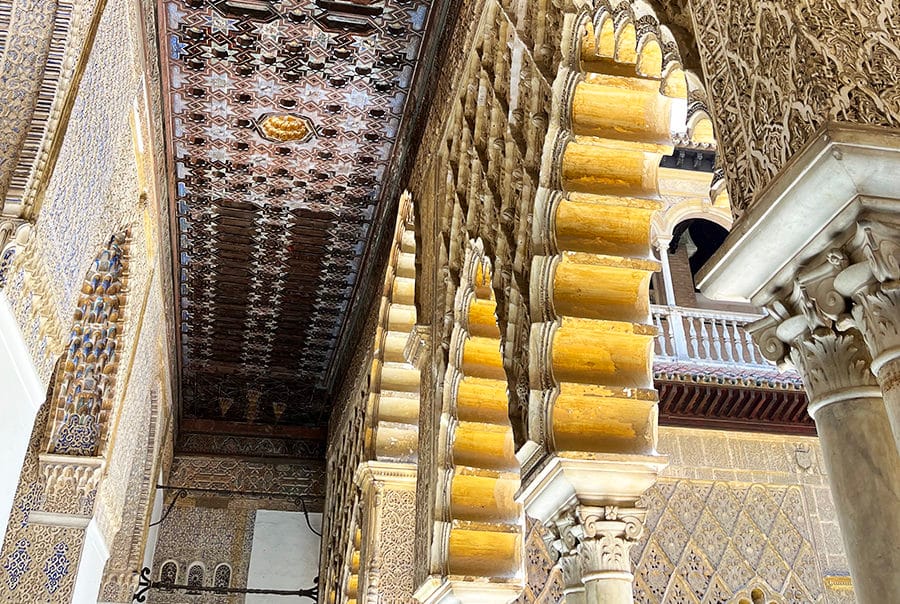 Across the great river Guadalquivir from the Old Town is the Triana district, a maze of ancient cobbled streets with a deep history in flamenco artists, famous sailors (Columbus sailed from here to discover the new world), bullfighters and ceramic tile artisans. Everywhere you walk in Seville you see tiles from Triana. There are a couple of beautiful tile shops here and a pottery museum. And a wonderful indoor market hall which feels timeless, and rich with the incredible local produce from land and sea.
If, like me, you love to also sample the best visual culture when visiting new places, The Museo de Bellas Artes de Sevilla has some great work by Murillo, de Zurburan and a wonderful early El Greco self-portrait. The building is also amazing in its own right.
I ended my visit on a hot Monday morning with a fascinating and enlightening guided tour of the Plaza de Toros, one of the largest bullfighting arenas in Spain.
For me, inspired by reading Hemingway's 'Fiesta – The Sun Also Rises' at an early age, this proved to be an amazing insight into the history and special heritage of this unique Spanish cultural event.
Finally, my stay at Palacio Bucarelli was also special, but so affordable, and capped by the attentive service of our host Miguel. Palacio Bucarelli is a Sevillian Baroque gem situated in a quiet neighbourhood narrow street at the northern end of the Old Town. Built at the end of the 17th century by the Bucarelli family from Florence, who moved to Seville attracted by the trade with the new world.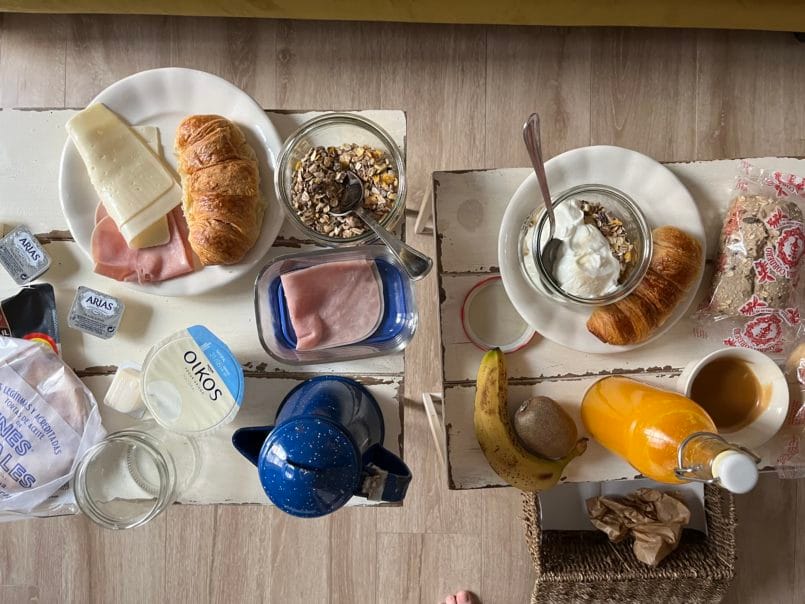 There are wonderful historical stories of various family members down the centuries and generations adorning the walls of this old palace building, adding to the richness of the visit. And a wonderful courtyard with a small pool and lots of orange trees. They also provide an amazing breakfast hamper every morning direct to outside your room, with bespoke ingredients to your order.
I've got to go back! VAMOS!
Bio: Tony Chambers –  co-founder and director at Eat With Your Eyes

Tony is a passionate and highly experienced strategic design and branding consultant. He strongly believes great design must be informed by the latest consumer trends and insight, and always deeply aligned to every client's unique personality and culture.