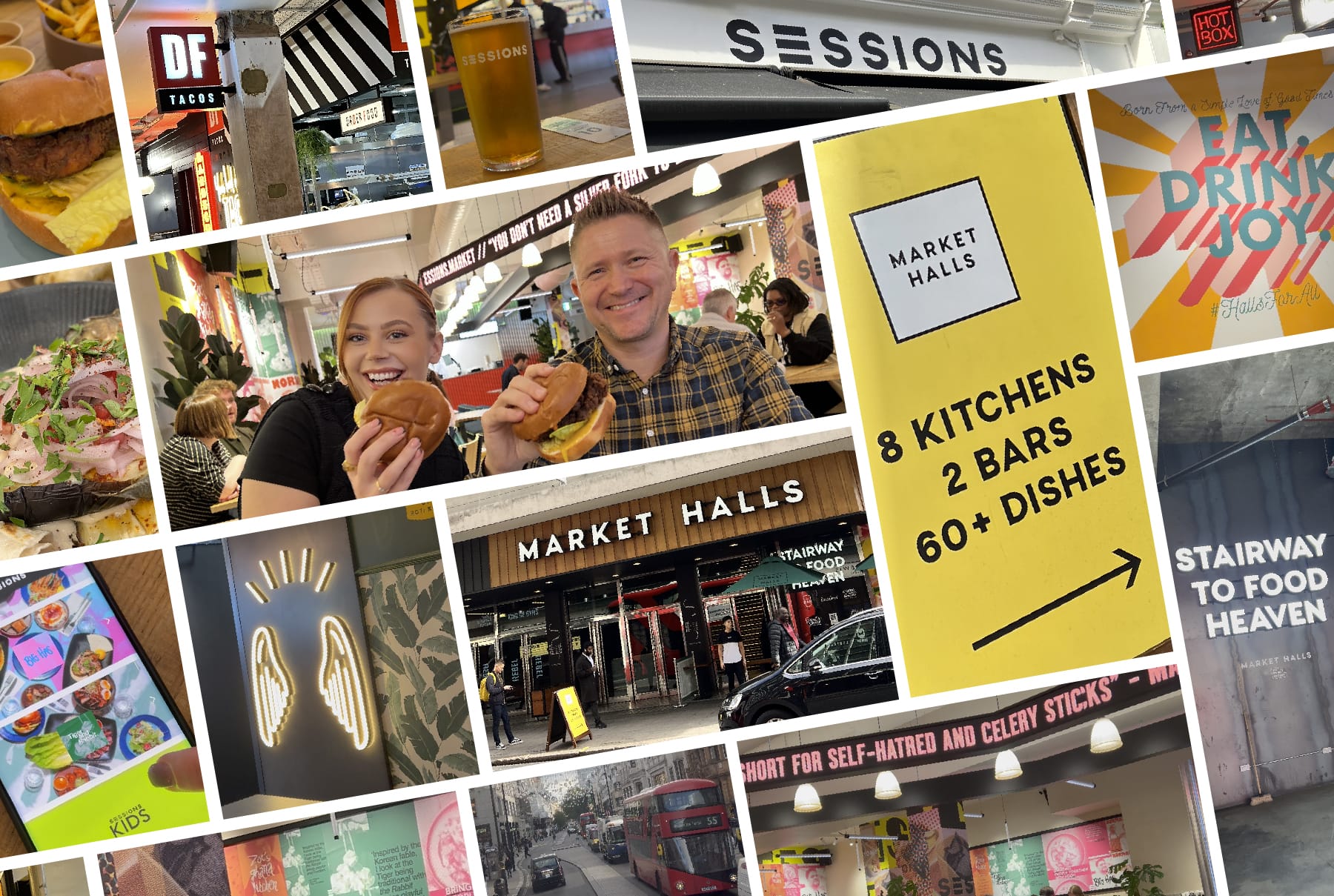 THE RISE IN FOOD HALLS
by Rachel Walsh
on 19/10/2022
Food Halls are becoming increasingly more popular in the UK, Europe, and beyond. Food Halls themselves can be thought of as a traditional covered market with the upscale ambience of an independent restaurant. As of 2022, there are over 40 in the UK alone and their growth doesn't seem to be slowing down anytime soon.
Largely due to the ever-increasing cost of living, consumer preferences are beginning to shift in favour of informal and communal dining. Despite this, consumers still want the quality, experience and ambience of a traditional restaurant.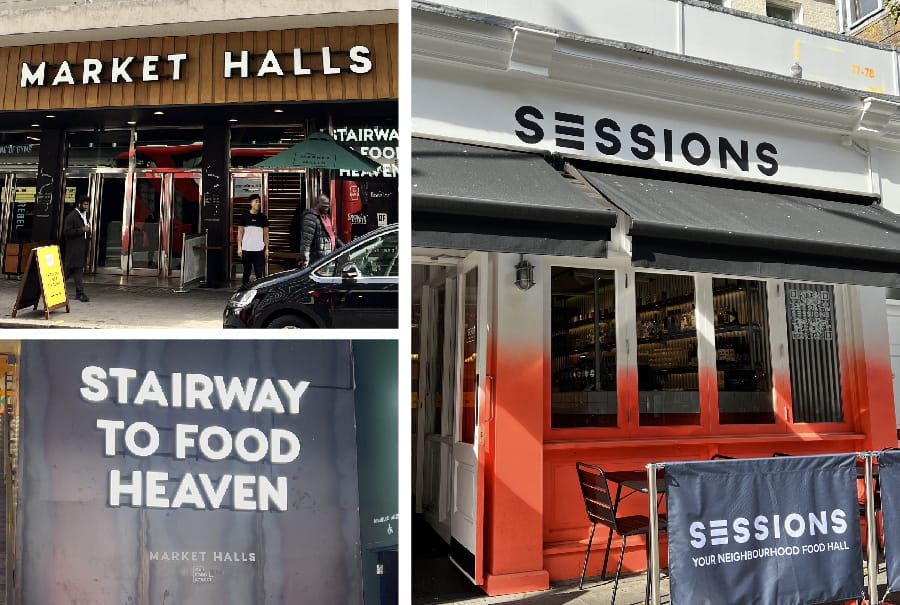 Consumer Benefits: 
Perhaps the most obvious benefit of a food hall is quite simply choice. 
Food Halls are often made up of a global selection of cuisines and dishes. As most stalls offer small plate options, consumers can explore the full offering, across all vendors, in a single meal. This grazing style encourages more casual dining, which suits both a younger demographic, and those looking to dine out more economically.
Food halls are, as large numbers of independent restaurants are, sustainability focused. This green approach, coupled with more vegan and world food options, means that food halls offer a more environmentally conscious option than many other alternatives at the same price point.
While some food halls have a traditional ordering system, many have begun to move over to app ordering. This allows consumers to order from multiple vendors without having to join additional queues. Through an app, menus are instantly accessible and often filtered by allergen or dietary requirement, so consumers can see the full offering with ease.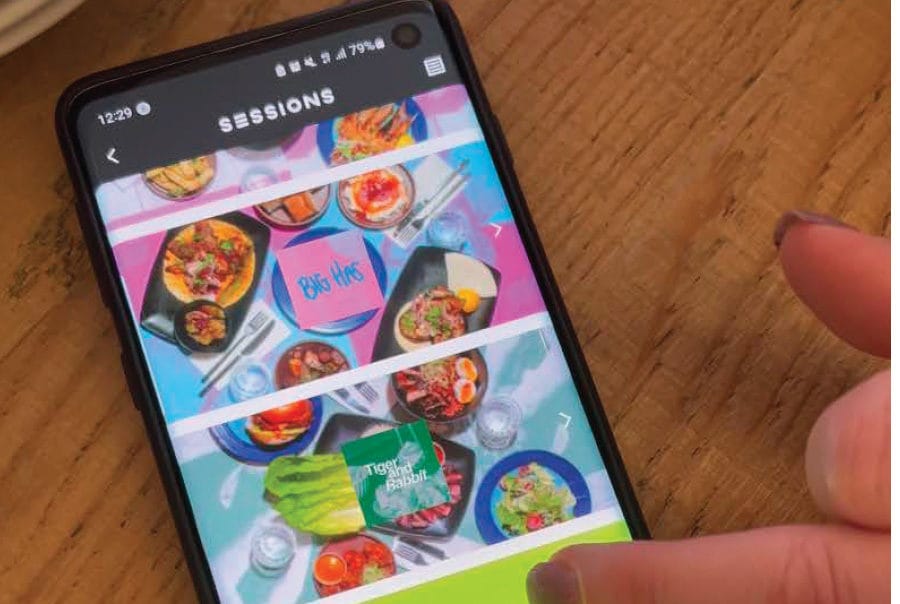 Having multiple vendors under one roof means that large groups can dine with ease without having to negotiate with differing dietary requirements and allergies. Seating is usually communal, so there is not requirement to order from the same vendor as the rest of your party. This fluidity creates better choice for consumers, especially as veganism increases in popularity.
Due to their global appeal and independent nature, food halls are often a catalyst for culinary trends, which gives them a perceived higher value than conventional restaurants. 
The bright, colourful spaces are family friendly, bustling and therefore make a great place to meet throughout the day (and night). Most food halls have a bar inside which allows the space to transform throughout the day from a bright lunch spot to an atmospheric, after-work dinner space.
Having this flexibility means that everyone can find a way to enjoy the space, in the way that suits them.
Vendor Benefits: 
With rising rent costs, shared dining spaces could encourage small vendors to take the leap. 
At its core, the Food Hall is simply multiple vendors sharing a dining space. As commercial rent prices increase steadily across the UK, the reduced overhead costs pose a significantly less daunting commitment for an independent vendor and encourage those just entering the market to take risks. Due to the relative ease of new vendors being able to get involved, food halls are a great vehicle for new concepts and cuisines to make a mark.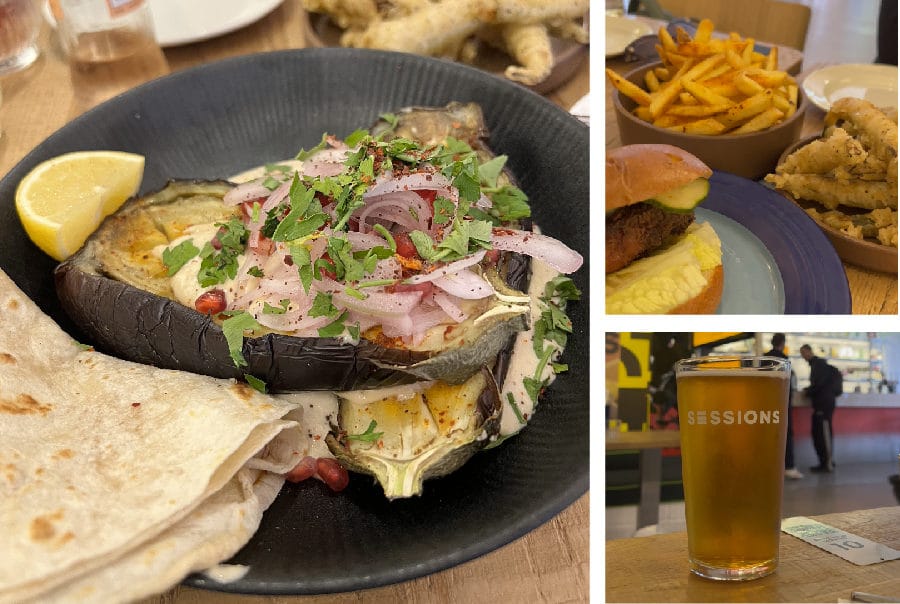 Without the pressure of maintaining a large restaurant space independently, vendors can instead invest in bolder culinary concepts. Compared to a traditional restaurant there is much more flexibility with a food hall, as leases tend to be shorter and have considerably lower deposit costs.
These spaces are often uniquely decorated and photograph well. This gives them a recognisable interior, that can encourage passers-by to step inside. The creativity of food hall design increases the energy and engagement around the sites, meaning that they are frequently posted online and receive substantial media attention.
Food Halls are often co-operatives or work on profit-sharing schemes, so while it is in the vendors' best interest to be successful, some of the financial pressure of running a small business is relieved. It also removes the competition between vendors- they are working together, rather than against, each other. Being full of small, independent brands works in the food hall's favour. Emphasising the brands' provenance and stories helps to create a stronger engagement between the new start-up and their target audience without being restricted by tight brand guidelines.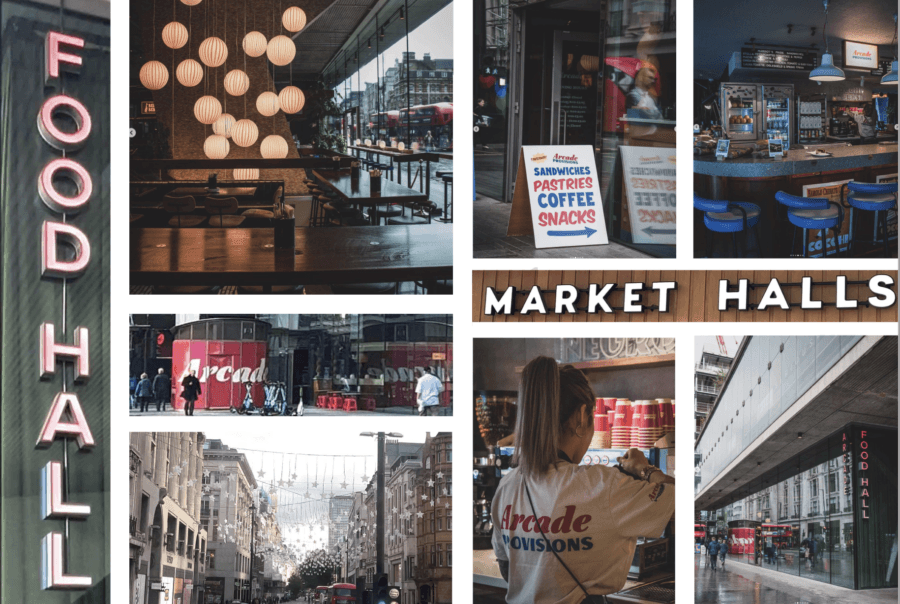 Our Experience:
While being required to sample incredible food is hardly an unpleasant work assignment, our experience with food halls left us with a lot of information to digest. The first thing we noticed about the food halls that we visited (Market Halls, Sessions and Arcade) was the impressive size of the buildings. Occupying such a large space in central London is no mean feat, and hints at the levels of success that such businesses are finding.
Each venue has a unique design. Market Halls felt like a busy city market with stalls in the centre of the room, surrounded by intimately-lit dining spaces; Sessions felt communal and easy-going with bright lighting and bold wall art; Arcade was surrounded by floor to ceiling windows with a brassy interior, feeling upscale and refined. Regardless of the theme, all had striking decor that was almost built to be photographed.
When it comes to ordering, each venue has their own approach. One required you to queue for each stall, a downside if you want to sample multiple vendors, but does lend itself to the market theme- you are encouraged to explore. There was, however, a centralised menu, so you could browse the offering from the comfort of your table before committing to a queue. The other two offered both the option of  traditional table service and app ordering. Conveniently you were able to order from multiple vendors simultaneously, while viewing a combined menu.
Perhaps the most enjoyable element was the sheer amount of choice that was on offer; having multiple vendors can make the choosing process into more of a lively debate. We began bargaining – "I'll have this side, if you have this one," – The fun of choosing small plates that seem discordant is a delicious experience.
All three venues operated with open kitchens which felt intimate and exciting. As we waited for our food, we were able to see flames shooting up from woks. This hybrid of market and restaurant feels local and quirky in a polished setting.
Their Future: 
London itself only has 6 food halls, in comparison New York has over 20. 
This suggests significant room for growth within the food hall market. As space in cities is often limited and expensive, repurposing old industrial units offers both a trendy and cost-effective proposition.
What this means for established chains who, by the very nature of their business and premises, are more restricted is not known. Hopefully, there is space for all operators because when there is, the consumer benefits from the choice that comes with quality competition.

Bio: Rachel Walsh – Digital Account Executive
With a degree in History, and a passion for eating adventurous foods, Rachel loves to use her time to research emerging trends and, of course, eat.